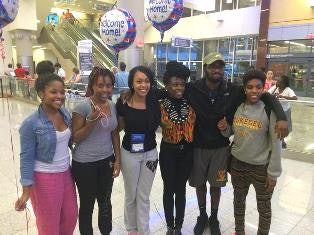 The Tuskegee University community says its prayers have been answered. This week, the Alabama campus welcomed back six study abroad students who were stranded, but reportedly safe and healthy, in Monrovia, Liberia, as the Ebola outbreak raged and they waited to return home.
With most international flights in an out of the West African nation canceled because of the epidemic, Tuskegee officials said they were able to arrange "alternative travel arrangements for the students," who flew back from Liberia to the U.S. on Sunday.
At Tuskegee, the fall semester began Wednesday. Some members of the student delegation returned to campus and others went home with their families, but when all are back, their health will be a focus given the highly infectious nature of this deadly virus.
According to university officials, the student travelers — five women and a man whose names weren't released publicly — "appear healthy and are under no quarantine restrictions."
In the days ahead, "The University will continue to follow all the directives and guidelines from the Alabama Department of Public Health and the Centers for Disease Control," said Dr. June Samuel, the university's director of Student Health Services. "When the students arrive on campus, the Student Health Medical staff will medically assist and monitor them for the recommended three weeks by recording daily temperature and other measures. They will be advised to notify us immediately if they develop any symptoms," Samuel said in a prepared statement.
According to the latest figures from the World Health Organization, more than 1,200 people have died of Ebola across four affected countries — Liberia, Sierra Leone, Guinea and Nigeria, with 2,440 cases as of Aug. 16.
The students, who were in Monrovia building wells and teaching math and science to teenagers, called their experience an "amazing trip" and said it was "unfortunate it was overshadowed" by the Ebola crisis, according interviews they gave last week to ABC News. While held up in the country, the student group stayed with a university official and were in daily contact with their parents and Tuskegee administrators.
Likely one of the most critical pieces of information the students could have exchanged with their loved ones had to do with exposure: "We have not had any contact with anyone that has contracted Ebola," student Aristotle Jones said. "We are in a safe environment, where everyone is completely safe and clean."
Tuskegee began issuing statements about its delayed study abroad students on Aug. 5 using the university's website.