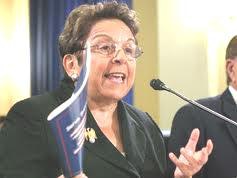 President Donna Shalala of the University of Miami announced her plan Monday to step down at the end of the 2014-2015 academic year. In a letter to the university community, Shalala wrote, "A long time ago a friend advised me to always leave a job when you still love it. That is certainly the case here."
Shalala, 73, came to the university in 2001 after serving for eight years as U.S. Secretary of Health and Human Services under President Clinton. Prior to that, Shalala had served as president of Hunter College of the City University of New York and as chancellor of the University of Wisconsin-Madison.
"Secretary Shalala has been a trailblazer in academia and in business. She's both a visionary and a tireless advocate on behalf of women and minorities in education," said Donna Brazile, who served as an adviser for Clinton's campaign for presidency and re-election.
Soon after her arrival at UM, Shalala initiated a fundraising drive that netted $1.4 billion. In 2012, a second drive started under her watch with a goal of $1.6 billion. The initial "Momentum" campaign was a catalyst for growth at UM and a rise in national rankings.
Shalala also is closely identified with the university's athletics. Its football team won its last national championship a few months after her inauguration; she oversaw the transition from the Big East Conference to ACC and guided the program through a major NCAA investigation of rules violations involving a former booster.
Dr. Tomas Salerno, chair of the UM Faculty Senate, wrote in an electronic message, "Under President Shalala's leadership we have transformed this University in a manner that was unimaginable. We will miss her terribly; however, her influence at the University of Miami is lifelong, particularly through her dedication to students and faculty."
Though Shalala was not available for comment, her letter suggests that she plans to continue to work on behalf of the university until she officially steps down.
"This is not a goodbye letter; we have work to do. I look forward to a spectacular year," she wrote.