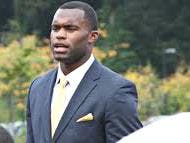 In two panels at this week's IMG Intercollegiate Athletics Forum (IAF) in New York, current and former student-athletes shared their perspectives on the state of college athletics and changes on the horizon.
From thoughts on student-athletes unionizing to maximizing the student part of student-athlete, three current student-athletes shared their experiences and what changes they might like to see. They were followed by a panel of former student-athletes, advocates for change to intercollegiate athletics.
The three current student-athletes — Brandon Vitabile of Northwestern, Taylor Kelly of Arizona State and Tyler Lockett of Kansas State — are all strong students and finalists for the National Football Foundation's Campbell Trophy, an award often referred to as the "academic Heisman." Each spoke about the importance of time management and offered little sympathy for student-athletes who fail academically.
"I find it really hard to believe when you hear guys are failing out or not doing well because you have to try to not do well with everything that we're given and all the support we get," said Vitabile, an economics major. Vitabile said he and his teammates challenged each other to do well academically as well as on the field. He credited the coach for putting that sort of team together.
Vitabile said the coaches were also supportive of his career aspirations, allowing him to have two internships at Goldman Sachs in Chicago during offseasons.
On the subject of whether college players should be paid, Lockett said he knows people who can't make ends meet on their stipends. Some send money from their stipends to their families. While pay would alleviate those issues, it brings the possibility of creating friction within the team.
"How do you distinguish how much money a person gets?" said Lockett. "Do you give [a leading player] $1,000 and somebody who's a redshirt freshman who's not going to play, do you give them $100 or do you give them the same amount?
"You watch college football and you watch the playoffs and you see some people who are being marketed," he added. "Should they get paid for that because they're being marketed? It's a great idea for athletes to get paid, but the problem is how are you going to implement that?"
"If it's performance based, you run into a lot of issues because maybe some guys will start trying to hurt each other so they get time," said Vitabile. "It should be equal for everybody because you're all doing the same thing. We're all trying to work toward the same goal.
"I think an education for free, you can't put a price tag on that," he continued. "What you can do with a degree from a prestigious university is invaluable."
Kelly said if he were being recruited today, he wouldn't make a decision based on money. His decision would likely be based on quality of education. He said decisions should also be based on an affinity for the community in which a school is based.
Northwestern recently had discussions about players unionizing, and Vitabile was opposed.
"I don't believe a union is the right way to go … about making change happen," he said. "There are a lot of avenues in place through our coaches, through athletic directors."
The second panel of former student-athletes was composed of gymnastics All-American Bonnie Bernstein, Duke basketball player Jay Bilas and Florida State safety Myron Rolle.
Bilas, who is a basketball analyst for ESPN and a partner at Moore & Van Allen, said he chose to attend Duke because of coach Mike Krzyzewski, even though this was before Krzyzewski became the legendary "Coach K." Had Krzyzewski chosen to leave Duke while he was in school he would likely have transferred. Years ago, Bilas proposed having Division I transfer rules revised to allow students to transfer without sitting out a year if the transfer is prompted by the coaches who recruited them leaving the school.
"I was told that's a non-starter. You choose an institution; nobody makes a decision for a coach. That wasn't my experience. That wasn't the experience of my teammates," Bilas said.
"These narratives we have just aren't true," he continued. "In my broadcasting life I started talking about it more."
Rolle, who was a Rhodes Scholar and is now in medical school, touched on an issue raised in the previous panel. He came to college well prepared, having attended an elite prep school, but he saw many of his teammates struggle, particularly those who were the first in their families to attend college. He advocates for stronger retention efforts.
"I had the right infrastructure, parents who were focused on education," said Rolle. "I had good coaches, who all developed me in a way that I was equipped with the right tools as I entered — in the classroom, on the field, I was going to do well. … A lot of my teammates, who I became brothers with, they were not.
"I really would like to focus on these young men and women who come from these very tough situations where if they go to good schools, they can be molded and shaped and graduate. Not only graduate with a degree, but graduate with an idea of where they want to go in life and their purpose, so now they can break that cycle."
Bernstein addressed the disparity in the student-athlete experience between the haves and the have-nots. She detailed the lack of equipment for the gymnasts at her alma mater, University of Maryland.
"We don't have our own facility. We don't have the money to go out and recruit," said Bernstein.
"There are so many different ways the student-athlete experience is impacted by the way athletics departments are spending their dollars," she said. "We need to start reassessing where the priorities should be and how we're spending our money."
The three panelists agreed that today's student-athletes are more aware of issues than generations past.
"They are astute and understand the amount of money that's coming into the sport," Rolle said. "Walking into the bookstore and seeing their jersey being sold … they're not naïve."
"They are thinking of ways to protest, ways to get their voices heard," said Bilas.