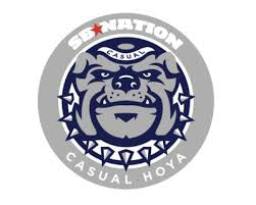 The Georgetown University men's basketball team Wednesday became the first collegiate team to protest against the recent failures to indict officers in Ferguson, Mo., and the New York City deaths of two Black men at the hands of police officers.
The team donned "I Can't Breathe" shirts prior to their game against Kansas, signifying the last words of Eric Garner, who was choked to death by NYPD officer Daniel Pantaleo. Notre Dame women's team became the first women's team to wear "I can't breathe" shirts this weekend.
Prior to Wednesday, however, college athletes have been largely silent on the issue. With the exception of University of Maryland wide receiver Deon Long—who asked "Are we still thugs when you pay to watch us play sports?" during a campus protest—and Knox College women's basketball player Ariyana Smith, other individual athletes have not spoken out about the issue.
Smith said she understands why her fellow athletes have remained silent.
"For most of these guys, I think they fear retribution from their institutions if they do speak up," said Dr. Robert Bennett III, a staffer at the Todd Anthony Bell Resource Center on the African-American Male, housed at Ohio State University.
Though Gail Dent, the NCAA's associate director of public and media relations, said the NCAA doesn't have any policies against student-athletes being involved in social protests, Smith said, "There are very tangible repercussions" for speaking out in protest.
Dent acknowledged that the NCAA does not intervene in individual institutional punishments for protest.
"If the coach had a particular view on certain things, he may do things to keep the guys quiet," Bennett said.
And that is exactly what Smith experienced.
On Nov. 28, during a game played in Clayton, Mo.—only roughly 12 miles from Ferguson—Smith walked around with her hands up in the "don't shoot" position during the national anthem then laid on the court for four and a half minutes (to symbolize the four and a half hours Mike Brown's body was left unattended in the street). The following Monday, Smith says she was called into the athletics office and informed she was suspended indefinitely for her actions.
"We know that we will be punished," she said. "Everything about athletic culture says that you cannot be anything more than an athlete. … From NFL football players to a [division III] athlete like me … we're not supposed to be anything but athletes. And that's not right."
Smith said that, despite reports from the college that her suspension was for only one game and had since been reversed, she was told she was suspended indefinitely and has not returned to team practices or activities. And no one from the coaching staff or athletics department or the school's administration has reached out to her.
The treatment she has received in the aftermath of her dismissal, Smith said, has left her feeling confused and betrayed.
"Coaches, administrators, governing bodies in athletics [like the NCAA] are not interested in who we are; they're just interested in what we can do," she said. "There's a culture of 'leave everything at the door, the only thing that matters is sports."
Smith said she is still waiting for an explanation of why she was suspended and is waiting to feel like she has a place—not just on the basketball team, but at Knox College and in America as a whole—as a Black woman.
Bennett said he finds many Division I athletes don't feel like they have enough of a platform to speak out and be heard. They are asked questions only about game day outcomes, but no one asks their thoughts on broader issues. Many of them also feel that their White teammates are ignorant of the issues.
Smith said she has found the White coaching and administrative staff disingenuous in their claim to not understand why she protested.
"There is no way they didn't know what that protest was about," she said, first calling their stance "willful ignorance," before declaring it "an outright refusal to acknowledge the larger context."
As Smith waits for answers from her coaches and administrators on campus, Bennett said such support is not often there. Even with Black coaches, the pressure to shut up and focus only on the sport is immense.
"If you're looking at what Black coaches have to deal with, these particular situations they may frown upon. They don't get too many chances or opportunities" to serve in these jobs at major programs, Bennett said, adding that "the last thing a major university wants to deal with is student-athletes" making a controversial public statement.