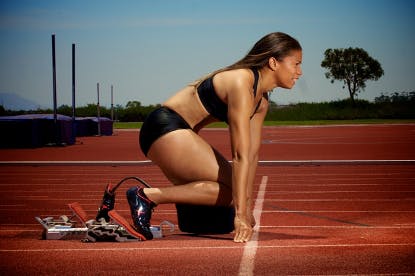 April HolmesThe athletic spirit is so deeply ingrained in April Holmes that the tragic loss of her leg propelled her to only greater heights. A former Norfolk State University track and field standout, Holmes' life was irrevocably changed in a 2001 train accident that cost her a leg.
About a week after her leg was amputated, the doctor who did Holmes' emergency surgery visited her in the physical rehabilitation center, bringing along magazines featuring the Paralympics.
As she read about the Games, Holmes decided then and there upon three goals: to represent the United States at the 2004 Paralympic Games; win gold; and be the fastest Paralympic athlete in the world.
"The second I started looking at the magazines, I thought, 'Okay. Here's three dreams, because this is going to help you move along in life, as opposed to sitting still,'" Holmes said.
Since then, she has surpassed those goals, and her own personal bests, many times over. For her successes, she is being honored by the NCAA today at its national convention with the 2015 Inspiration Award, given annually to an outstanding and motivational current or former varsity athlete, coach, or administrator associated with the NCAA.
Holmes won a bronze medal in the long jump at the 2004 Athens Olympics; gold for the 100 meters in Beijing and 2008; and a bronze medal in the 100 meters at the 2012 London Games.
"I used to love the 400 when I was in college, but I don't love that anymore. It only seems like a whole lot of running to me nowadays," Holmes said with characteristic modesty. "These days I just really love the 100 meters."
Getting to where she is today was not exactly a breeze. After her injury, Holmes decided to return to school to get an MBA in marketing from the University of Phoenix. But it was a far different experience than being a student-athlete at the Norfolk State campus. Due to a demanding work schedule, she needed the flexibility of online classes.
Holmes' days were packed: she worked full-time as a project manager at Verizon, trained in the evening, and did her coursework over dinner, often late into the night and early morning hours.
That regimen of intense focus and dedication lasted for a year and a half, a time that Holmes described to Diverse as "fun," albeit challenging. "I was just churning," Holmes said. "I don't know how I did it, but praise to God I did it."
Her circumstances are different now, although her work ethic would not appear to have changed much. As an established Paralympian, Holmes has several corporate sponsors, including the Hartford Insurance Company and BMW, among others. She was the first female and first amputee to be signed by the Jordan Brand.
When she is not training, Holmes runs the nonprofit April Holmes foundation and gives motivational speeches at university and corporate campuses.
Her training regimen is tough and focused. "Once you get to an elite level, your margin of error is very slim. Things you could change are very fine. And so you just try to go out there and do better or be better than you were yesterday," Holmes said.
Part of what inspires Holmes now is the growing number of amputees—many returning injured from military service in Iraq and Afghanistan—joining the ranks of para-athletes.
If when she trains she thinks about her daily goals and the competition, she relies on her finely tuned athletic instinct during competitions. "When I get on the starting line and the gun goes off, I'm not worried about beating anybody else but myself, because I run a race that's so quick that if you begin to think about other people in other lanes then you've lost the race already," Holmes said.
But despite all her awards and victories, Holmes said that the award from the NCAA is particularly meaningful. "It means the world to me. There are thousands and thousands of athletes that come through the NCAA system of student athletes. So for them to recognize me is absolutely an honor and it's clearly up there with my gold medal in my life," she said.
Holmes said that she would encourage younger athletes to never let go of their ambitions. "Never stop believing that you are a champion," she said. "Regardless if someone else is being crowned as champion, everybody has an opportunity to win a gold medal in life. So just never stop believing you're a champion. You'll be successful at most things you set your mind to."
Staff writer Catherine Morris can be reached at cmorris@diverseeducation.com.