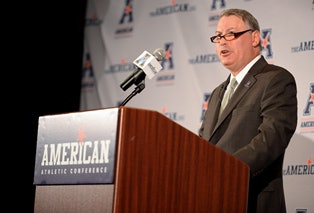 In the wake of conference realignments and game-changing court decisions, the stakeholders in non-revenue-generating intercollegiate sports wonder what the future holds.
Michael Aresco, commissioner of the American Athletic Conference (AAC), says Olympic, non-revenue-generating sports are extremely important to the conference. He's also honest in saying those sports cannot get the same attention as football and basketball because if those two marquee sports aren't operating optimally than other sports cannot exist.
"We have to focus a lot of our attention on football and basketball because they generate the revenue that allows us to function and allows us to give our student-athletes the highest possible level of competition," says Aresco.
Conference realignment
­The AAC formed in 2013 following the decimation of the former Big East due to conference realignments.
"Conference realignment has changed the paradigm of the regional, eight-team conference," says Aresco. "­There's been consolidation. It's having an impact on Olympic sports without question; the demands of travel, time and other kinds of things.
"In terms of Olympic sports, we've tried hard to manage our travel and develop schedules that take into account that certain schools are clustered in certain areas," he adds. "­Therefore, we've tried to schedule in a common sense way that limits travel and any missed class time."
Val Ackerman, commissioner of the reconfigured Big East Conference, says geographic proximity helps increase the prospects for a sports program's survival, but without question the future of Olympic sports is a "hot topic."
"­The Knight Commission, which I'm on, is one group thinking about whether there might be a better model," says Ackerman. "Every conference is going to have to figure this out.
"Because of litigation outcomes in particular, more money has to be directed into football and men's basketball," she continues.
"By definition, that could well lead to less to go to other things. It may well force schools to make hard decisions about which programs they can support and at what level. It's an unknown."
At the IMG Intercollegiate Athletics Forum (IAF) presented by SportsBusiness Daily/Global/Journal held in New York in December, NCAA President Mark Emmert said frankly, "Changes are coming to Olympic sports," but did not speculate precisely what they'd be.
­The five wealthiest conferences — the ACC, Big 12, Big Ten, Pac-12 and SEC — have sought increased autonomy. In August, the NCAA Division I Board of Directors approved a revision in the division's governance structure. As well, the ruling in the O'Bannon case will have an as yet unknown impact on sports beyond football and men's basketball. ­This ruling stipulates that college athletes are entitled to share in the revenue generated by their likenesses.
In an editorial in SportsBusiness Journal, consultant Dan Beebe, former commissioner of the Big 12, suggested a model that would radically revise college sports into two groupings, spectator sports and participation sports, which would have different competition structures.
He argues that the Olympic sports would be enhanced by these changes, even though he suggests eliminating athletic scholarships for those sports in favor of academic- or need-based aid and making coaches part time.
Support and funding
Beebe moderated a panel at the IAF titled Promoting the Growth and Development of Olympic and Women's Sports. None of the panelists said they agreed with or supported Beebe's suggestions.
In an interview with Diverse, Patrick Lyons, athletic director for Seton Hall, which plays in the Big East conference, says he isn't for or against Beebe's proposal, but time will tell how viable or even essential it might be.
"These autonomy rules are going to go into place. My hope is that we don't see the rapid cutting of Olympic sports. There's going to have to be some sort of dialogue about what does happen to the Olympic sports," Lyons says. "We don't have an enormous athletic budget. We only have 14 programs (the minimum required to be in Division I). We're very confident that we're going to be able to provide the resources for all our sports. If I were sitting on 25 programs right now, I think I'd be answering a little differently."
One university that wasn't able to sustain an extensive sports program was Temple University, which in July 2014 cut seven Olympic sports: baseball, softball, men's and women's rowing, men's gymnastics, and men's indoor and outdoor track and field. Athletic director Kevin Clark says it wasn't due to conference realignment or then-pending court decisions. Given economic realities, Temple's athletic department could not support all the sports programs at the optimal level it wanted to provide for all student-athletes.
"When I eliminated the sports, it wasn't driven by football. It was driven by making sure our student-athletes have a very high-quality experience, and we weren't doing that," Clark says. "We didn't have the locker room space. We weren't fully funded in all our women's sports in terms of scholarships. Our facilities were not where they needed to be.
"My goal was to right-size the department and to give all our programs the opportunity to compete at the highest level."
Conference realignment figures into the equation. Now that Temple is part of the new AAC, it's aligned with eight other schools in the top 50 media markets.
This means all sports have to succeed at the highest level to be relevant. Since cutting the seven sports, Temple Athletics renovated the locker rooms for the remaining Olympic sports and provided fully funded scholarships for all women's programs. The academic center was also renovated.
Non-revenue generating sports are called Olympic sports for a reason — even though not all are contested in the Olympics. Nearly two-thirds of U.S. Olympians at the 2012 Olympics in London have participated in college sports. Ackerman says there has been dialogue between the NCAA and the U.S. Olympic Committee (USOC) about how to keep these sports viable and serve as a feeder for Olympic talent.
On an IAF panel of athletic directors, Dr. Kevin White of Duke University said he worries about track and field and the U.S. ability to compete on the world stage if universities start dropping or even reducing funding to programs. On the panel that Beebe moderated, Rick Adams, chief of national governing body organizational development for the United States Olympic Committee, echoed White's sentiment.
"The collegiate system, frankly, is nearly everything to us," said Adams. "It isn't just the athletes — it's the coaching, the facilities, the infrastructure.
"It would be extremely difficult if there were to be a cascading impact on the Olympic sports on the collegiate level," he added. "If there's a meaningful shift in swimming and [track and field] … they will simply not get us to the point where we can win [Olympic] medals as expected by our country."
Finding a solution
The panelists said they're open to creative solutions as are people in leadership positions in intercollegiate sports.
"Maybe there are some alternate models, where, for example, a national championship in an Olympic sport could be conducted under the joint auspices of the federation and the NCAA," Ackerman posits. "Their sort of combined forces could do what they're each doing separately now. Maybe there's an aggregation that would be helpful to those sports.
"To my knowledge, no one has really delved into this in a serious way," she adds. "There is a wait-and-see approach going on right now."
Unquestionably, that has been the recurring message. The only decisive prediction is there will be change for non-revenue-generating sports, but what that is remains to be seen.
Perhaps Division II can provide some innovative trickle up solutions.
Stephen Joyner, athletic director and men's basketball coach at Johnson C. Smith University, an HBCU institution, says the goal of the university is not to create professional athletes. Rather, the emphasis is put on the educational experience of the student-athletes.
At Johnson C. Smith, the university utilizes the community and alumni interest in football and basketball to drive attention to the Olympic sports, according to Joyner.
"So their interest and involvement goes beyond … the sport they came in and associated with," Joyner says. "Olympic sports are going to survive because of community engagement. It's important for all programs at every level to get the community involved so that they want to support every program on the campus."
Joyner also notes that there is a strategic plan in place for funding all sports and sometimes Olympic sports programs hold their own fundraisers and initiatives.
Jacqie McWilliams, commissioner of the CIAA, the conference in which Johnson C. Smith competes, says separating the Olympic sports from football and basketball could cause irreparable harm to college sports.
"If those sports went away and we put them in a different governance structure, what is that saying to the community of sports of intercollegiate athletics?" McWilliams says. "To me, it all starts with the leadership. They have to see that Olympic sports are valuable and viable on their campuses."
"We try to stay creative, ensuring how we can support our member schools," she adds. "Our member schools have to understand that if Olympic sports are important they're going to have to put the resources in to provide opportunities for those student-athletes."