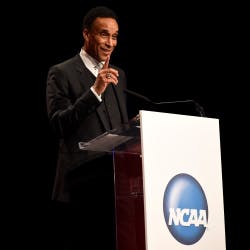 Mannie Jackson says he wants "to be involved in a movement that allows good people not to do bad things."Mannie Jackson has blazed trails, run businesses and is a globetrotter in every sense of the word. Along the way, he has discovered that some things never seem to change, but definitely should. He aims to be that agent of change.
"I'm a multimillionaire and I still fear being stopped by the police," Jackson told Diverse following recognition in January from the National Collegiate Athletic Association (NCAA) for exemplifying the ideals of college sports. "Of all people, why should I be afraid? But, I still fear that. Now, the police ought to know this and they ought to feel this, and at some point we're going to be able to engage in some dialogue that erases this fear."
With such issues in mind, the former Harlem Globetrotter player and team owner has been the driving force in the creation of the Mannie Jackson Center for the Humanities (MJCH) that is scheduled to open in late 2015.
In 2008, Jackson bought the Lincoln School in his hometown of Edwardsville, Illinois, a crumbling facility that had once proudly served as a segregated school for Black students. Jackson donated the school that he once attended to Lewis and Clark Community College in 2011 and formed a partnership in the development of the center.
In addition to its conference facilities, the MJCH will operate a fully functional STEM center and a full-service conference center that will provide the opportunity for introduction of college programs such as culinary and hospitality.
Jackson says that the center is needed to address by-products of rapid cultural change that the Founding Fathers, who lived in an overwhelmingly majority White era, did not foresee as they formulated some of our nation's bedrock principles.
"We all know you have free speech but you don't go into a theater [and yell, 'Fire'] and you don't drive through Harlem and holler, 'Nigger,'" says Jackson. "So, we have free speech but we've got to respect cultural di­fferences [so] that we don't insult other folk.
"Not that we have the answers, but we're going to have the dialogue take place."
Remembering the past
Edward Hightower, Jackson's longtime friend and superintendent of Edwardsville Community Unit School District 7, says Jackson still bears some of the "emotional scars from those segregated days" and that his views have been further honed by his travels around the world.
"Mannie is an amazing humanitarian who just wants to make the country and world better," says Hightower, who was an NCAA Division I basketball referee for 36 years and has been on the Lewis and Clark Board of Trustees for 25 years. "He's not angry, he's not bitter; he just wants to change the way people view each other."
And, Jackson wants to get started now.
"I think this country is going to come apart for many years if we don't deal with the reality of this multicultural influence and the differences in people, you have to respect it," says Jackson, a venture capitalist and philanthropist who was born in and lived the first couple years of his childhood in a railroad boxcar.
"We're going to have a test of democracy pretty soon. Democracy meant one person, one vote and they're not going to like it when they become the minority."
The plan is to host academic conferences and political debates, bring in world-class business leaders and lecturers from around the world, and involve those on the front lines of the cultural change in an effort, as Jackson says, "to get people comfortable on a fact-based rather than emotional-based level."
Groundbreaking for the renovation of the Lincoln School began last October. Lewis and Clark, which is financing the $4 million construction costs, had been given a $250,000 grant for development of the project in 2011 by the National Endowment of the Humanities. The college needed to raise $500,000 in order to keep the 2-for-1 matching grant. Powered by $200,000 donated by Jackson, the college quickly secured nearly $2 million in funding.
Donations fund an endowment toward the program, and Jackson's association with it continues to pay off handsomely.
"I'm celebrating a bit this weekend because we had a gentleman that read about it, had heard about me in the past and my partners in it, and he donated $5 million," Jackson says. "Just walked in off the street with his wife and said, 'Tell me more about it.' He left the room, came back and he said, 'I'm not going to wait. I'm putting $5 million on the table.'"
Jackson has plenty of experience in breaking new ground. He and former Edwardsville high school teammate Govoner Vaughn became the first African-American basketball lettermen at the University of Illinois. Jackson, who at age 75 looks as though he just recently may have wrapped up a pro basketball playing career, held several senior management positions at Honeywell and served on the board of directors at six other Fortune 500 corporations.
In 1986, he co-founded the Executive Leadership Council, a member organization primarily dedicated to developing Black corporate executives.
"We said our goal is to make us more powerful in the corporate world by doing business with each other and get some of us on the boards of directors so that we could effect change. It went from about 20 to 25 people to now maybe about a thousand. … What we did strategically was change the notion that we're stuck in jobs that didn't have economic power."
The Naismith Basketball Hall of Famer, who spent the bulk of his corporate career "buying, selling and fixing companies," bought the financially ailing Globetrotters in 1993. He was the first African-American to own a major international sports/entertainment franchise. Jackson sold an 80 percent stake in the team in 2005.
Hoop dreams
Ironically, perhaps one of his boldest ventures in the basketball realm did not come to fruition. Jackson says that he had put the logistics and financing in place to make history as a sports franchise owner even earlier and on an equally impressive level—in the National Basketball Association.
"In 1989 and '90, I wanted to put an expansion team in San Diego," says Jackson. "Without naming names, I needed the endorsement of the former owner of the San Diego franchise. I didn't get it."
Jackson, who has a B.S. in education from the University of Illinois and an M.A. in marketing and economics from the University of Detroit, once said that, without basketball, no one would have known whom he was or cared. While it undoubtedly opened doors for him, he doesn't want to see academics undervalued.
"The biggest game changer was when I dunked a basketball," recalls Jackson. "All of a sudden, I became not the best friend of my grandmother, my age group or teachers, but became the friend of coaches and AAU [Amateur Athletic Union] teams. I got sidetracked. Life to me was about dunking and running up and down the basketball court."
Communities, Jackson says, most often pay the price when that situation occurs, because a student, potential leader and a difference maker is not focused on making his environment better for himself and others.
"I want kids to be as excited about academics as I was about basketball," says Jackson, who once taught biology on the West Side of Chicago. "I want tutors and teachers to be as powerful in the community as AAU coaches and that can happen because we have smart kids."