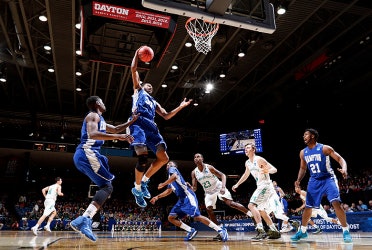 It goes without saying that smart money isn't on Hampton University to defeat No. 1 Kentucky today in the second round of the NCAA Men's Basketball Tournament.
The Pirates, 17-17 after defeating Manhattan Tuesday in the first round and the only team that entered the field of 68 with a losing record, are a 32-point underdog to the unbeaten Wildcats (34-0), and some say that is being kind.
But regardless of the outcome of their matchup with a Kentucky team that is chasing history, Hampton and the Mid-Eastern Athletic Conference will be winners when the final buzzer sounds at KFC Yum Center in Louisville, Kentucky, thanks to the NCAA Basketball Fund.
The fund was created in 1990 to more equitably divide tournament revenue and split it among Division I programs. The way it works is that teams receive a unit each time they advance in the tournament up to the championship game. Each unit is worth a specific amount of money each year and encompasses a six-year period. This year, that amount is more than $250,000. But instead of the money going directly to the schools, it goes to the schools' conference, which is responsible for divvying it up as it sees fit. The NCAA suggests that the money be evenly divided and most conferences follow that suggestion.
"You're talking about an economic value of $1.2 to $1.3 million over a six-year period," says MEAC Commissioner Dennis Thomas. "That's huge."
The MEAC has earned 34 units and $23.13 million since the fund was created.
"That's not a bad number," Thomas says. "You always wish it were better."
The fund was created to minimize the financial impact of wins and losses in the tournament. Under the previous system, schools were paid for their wins. That created situations where a student-athlete could have cost his school $300,000 by missing a game-winning free throw. This scenario precludes that and alleviates the pressure on student-athletes who find themselves in a situation with the game on the line.
Thomas likes the idea of conferences controlling distribution of the funds for a number of reasons.
"You belong to a conference for a reason," he says. "You have a conference schedule. … You have conference honors. There are so many advantages to being in a conference, and for the betterment of the whole is why the distribution model has funds coming to the conference."
That makes it easier for conference members to root for the Pirates to do well.
"Absolutely," says Bethune-Cookman Director of Athletics Lynn Thompson. "We have a vested interested. We are shareholder[s] and stakeholders in the process. For anybody in our conference to win, we celebrate, for them to advance, we celebrate. To watch Hampton beat Manhattan, the champion of the MAAC and [a] good team, and all the attention coming to [Kentucky] for having the No.1 team and perhaps the greatest team of all time, is nothing but positive."
Hampton Director of Athletes Eugene Marshall says he can't put a dollar value on the exposure that has come Hampton's way as a result of its matchup with Kentucky.
"This gives us an opportunity to talk about our brand and put our brand on a national stage," Marshall says. "The thing I like about this matchup is that on national TV, on a national stage, Hampton University will be on display and they will be able to talk about Hampton University in a way that newspapers, radio and the Internet will never be able to match.
"This university has a storied history academically, socially and athletically, and people will get a chance to get a better understanding of who we are and what we're about."
Kentucky, riding a 34-game winning streak and boasting a roster full of high school All-Americans and NBA prospects, is easily the most high-profile team Hampton has ever faced. Pirates coach Edward "Buck" Joyner Jr. says his team is in a no-lose situation against Kentucky.
"We don't have [a] lot to lose," Joyner says. "It's a tournament game. If you lose the game, you were supposed to. If you win the game, you've done something great."
Joyner's mindset, he says, is to enjoy the moment.
"Too many people get caught up in the moment without being able to enjoy the moment. I'm not that kind of person. I'm going to enjoy the moment also."
With that in mind, Joyner entered the tournament with a light-spirited attitude. He joked that he would need a lot of help if Hampton were to advance and play Kentucky, and that he had "Jesus on speed dial." After the Pirates got past Manhattan, Joyner was asked how big of a mountain did his team have to climb against the Wildcats.
He responded by whipping out his cell phone and pretending to dial. "I told y'all I had Jesus on speed dial. 'Hey, Jesus, first of all you can't play, so I ain't worried about you being hot. They want to know how much of [a] mountain and what our odds are. Hello? Hello?' I guess he'll get back to me."
Enjoying the moment, however, doesn't mean that Joyner isn't in it to win.
"Don't get me wrong," he says. "I do take this seriously. We're coming in there to compete and try to win. What I tell my team is relax, go out and play. Have fun with it, but be serious in the way you compete. Understand about Kentucky like you understand every opponent, and understand you have to do it 100 times better because they are the No.1 team in the nation."
Hampton — and the MEAC — has a history of tournament upsets. The Pirates are one of seven No. 15 seeds to defeat a No. 2 seed, having beaten Iowa State 58-57 in the 2001 tournament. MEAC members Coppin State, a 78-75 winner against South Carolina in 1997, and Norfolk State, an 86-84 winner over Missouri in 2012, also won as 15 seeds.
So what will it take for the Pirates to become the first No. 16 seed to beat a No. 1 seed?
"We got to make some plays," Joyner says. "We got to make some unreal plays. You got to do the things you need to do; when you get some opportunities you have to take advantage of them, and just like any other game you have to have some things fall your way, too. We're going to have to play close to or play the perfect game to pull this off. Hopefully, we'll be prepared for it."