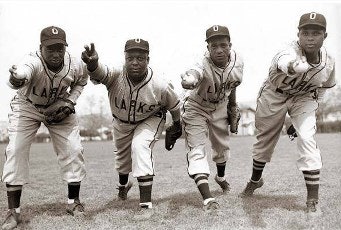 The best untold story of Black baseball in the United States is the one in which the pursuit of a higher education was front and centerfield in the lives of many Black baseball players.
"When we go back and we look at the stereotypical perception of Black athletes, particularly in that era, it was that they weren't smart enough to play in the major leagues," said Bob Kendrick, president of the Negro Leagues Baseball Museum in Kansas City, Missouri.
The perception that Black players were not smart enough to play in the major league was particularly ironic given that more Negro League players had a college education than Major Leaguers, seeing as Major League baseball recruited players right out of high school into its farm system. An estimated 40 percent of Negro League players had college educations and most were from historically Black colleges and universities, according to Kendrick.
"The Negro Leagues didn't have a minor league system like the major leagues did. … Their primary source of recruiting their workforce was on the HBCU campuses," said Kendrick, who added that Negro League teams did spring training on HBCU campuses as well as played in exhibition games against the HBCU teams.
"These men weren't the vagabonds or tramps they're being sold as," Kendrick said. "They were very well-educated men who did significant things with their lives after their [baseball] careers."
Whether it is the story of Wiley College graduate Grady Orange, who played for four teams from 1925 to 1931 to earn the money to attend Meharry Medical College, or Hall of Fame pitcher and Alcorn State College graduate, baseball coach and later athletic director Bill Foster, the connection between Black baseball players and often HBCU scholarship is not usually mentioned.
"When you look at the history of minorities in baseball, it's an incredible story," said Dr. Joseph L. Morale, vice president of student affairs and enrollment and interim athletic director at Wiley College. Morale said today's players "sometimes can lose sight of baseball and why it's important to try to represent the game well and represent themselves well."
For today's HBCU baseball players, it is important to impart the history and contributions of those who came before them. Morale said it is important that they "understand the responsibilities they have as ambassadors of the game and as ambassadors of historically Black colleges."
The legacy of HBCU baseball — and Black baseball in general — is changing, as "we see a significant demise in the numbers of Blacks playing baseball," Kendrick said. "At a lot of HBCUs, you look at the baseball teams and there are one or two, if any, Black players on the team."
The Wiley College Wildcats team is about 50-50 Black-Latino, according to Morale.
"Historically Black colleges and baseball teams are being challenged all over the place," Morale said. "They don't look the way they used to look, but they're still full of minorities."
Kendrick said the role of Hispanic players is also tied to the history of the Negro Leagues, to which many brown players were relegated because they could not play in the major leagues either.
"The Hispanic athlete is a big part of the Negro League story" and, increasingly, the HBCU baseball story, said Kendrick. "If you look at [Florida A&M University], most of the players are Hispanic" — and that's not a bad thing.
For their part, the Wildcats are working to preserve the legacy of baseball in their Marshall, Texas, community by hosting small clinics and working with neighborhood kids to pass down the love of the game.
But Morale says he believes there needs to be a more concerted effort to keep baseball alive in Black communities.
"Major League Baseball has a responsibility to reach back to these programs" on HBCU campuses the way the Negro League teams once did, "to mentor, to connect teams to them so that baseball stays alive in our communities," he said.
"For all of the money [Major League Baseball] invests all over the place, it seems to me that a great investment is connecting to these historically Black college baseball teams," Morale said.