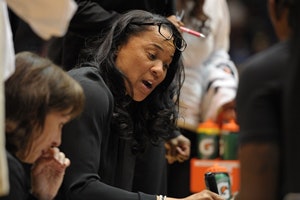 One of the most acclaimed point guards in women's basketball, Dawn Staley, is also making history as a coach, motivator and leader.
Having just completed her 15th season as a Division I women's basketball coach, Staley's annual goal is achieving something she never achieved as a player—winning an NCAA title.
Falling short of that goal—despite leading her University of Virginia team to three Final Fours and one national championship game—haunted her. It also propelled her to attain greatness on the world stage—winning three Olympic gold medals. She has been inducted into both the Women's Basketball Hall of Fame and the Naismith Memorial Basketball Hall of Fame.
Now head coach at the University of South Carolina, Staley kept the Gamecocks poised and focused during an intensely competitive season, including several weeks as the top-ranked team in the nation. Her team reached the Final Four, losing 66-65 to eventual runner-up Notre Dame.
Staley keeps her players balanced and on an even keel. Basketball is her passion and focus, which makes it all the more intriguing that she never envisioned a career in coaching.
"All of my friends who were coaches, their teams consumed them," says Staley, who majored in rhetoric and communication studies at Virginia. "I'd say, 'You guys need to get a life. There's more going on besides what's going on with your team.' Then I got challenged. Once I did, I was drawn to it. I'm driven by challenges. Now that I've experienced the other side of it, I don't know why it took me so long to make the move into coaching.
"It's more than Xs and Os; it's being a dream merchant for young people," she continues. "It is being able to help them navigate through life and giving them lessons they'll always have to use when they're challenged with something that happens in the real world."
Staley's initial coaching challenge had a hometown hook.
She was raised in a housing project in Philadelphia and says basketball saved her from despair. So when Philadelphia-based Temple University offered her the head coaching job in 2000—despite having no previous coaching experience—Staley accepted.
In her eight years at Temple, she built a program, became a dominant force in the Atlantic 10 Conference and made six appearances in the NCAA tournament. In 2008, she was named head coach at South Carolina. While living in the South has mellowed her approach, it hasn't changed her intensity or desire to make an impact.
"Basketball completes me; it makes me happy," Staley, 44, says. "It makes me sad at times when I feel like it's not done the right way, but it also fuels me to want to get it right. I have an emotional attachment to basketball, and I seem to be able to keep it healthy."
When Staley moved to South Carolina, she wanted to build on her previous work in Philadelphia with the Dawn Staley Foundation, which provided after-school programming for middle school girls.
In May 2013, she helped launched INNERSOLE, an organization that provides new sneakers to homeless children and other children in need. To date, INNERSOLE has given away more than 5,700 new pairs of sneakers, according to its website, and recently started an initiative called Educate My Sole, a competition among third, fourth and fifth graders at Burton-Pack Elementary School.
The challenge focuses on "academics, attendance, behavior and physical fitness," with the winning classroom from each grade level with the highest measurable improvement receiving a new pair of "prized" sneakers.
"We chose to do it in a school that is underperforming," says Staley. "I feel like sometimes the children that grow up in these impoverished neighborhoods are often forgotten. I was one of them. Fortunately, I had basketball to guide me. I'd like to use myself as a platform to speak to them and for them, so they can have a better opportunity to be exposed to some things that will allow them to be successful."
Next year, Staley is headed back to the Olympics for her second stint as an assistant coach. The U.S. women are aiming for a sixth consecutive gold medal. It helps enrich the wisdom she shares with her college players and gives her one more thing to inspire those who need it most.
"It is a platform for me to be a ray of hope to people who are forgotten," Staley says. "I can take my Hall of Fame trophy into (the) projects and allow them to see it, touch it and have a tangible experience. Maybe there's another Hall of Famer that needs to hear my story."