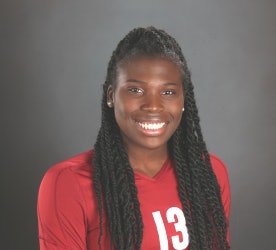 Krystal Rivers always rises to meet a challenge, whether it's on the volleyball court, in the classroom or in her personal life.
In the last year, Rivers has maintained a 3.8 grade point average and made history by becoming the first University of Alabama women's volleyball player to be named to the American Volleyball Coaches Association Third Team All-America list.
She accomplished it all just months after undergoing treatment for Hodgkin's lymphoma. This month, Rivers was selected by Diverse as its 2015 Arthur Ashe Jr. Female Sports Scholar of the Year. The award, named in honor of the late tennis great and activist, goes to college athletes who exhibit excellence is sports, academics and community service.
Rivers admits she had some really bad days. But she pushed herself, making — as she sees it — lemonade out of life's lemons.
"I just had to get through it," she told The Tuscaloosa News last year.
And she wasn't just undergoing chemo treatments and taking classes. "She did volleyball at the same time," Alabama setter Sierra Wilson told The Tuscaloosa News.
As a Crimson Tide athlete, she has racked up some impressive stats: 992 career kills; 10 double-doubles last year; three-time Southeastern Conference (SEC) Offensive Player of the Week in 2013; 2014 preseason All-SEC volleyball team.
And that's just a partial list. An academic junior who is a redshirt sophomore, Rivers has more seasons ahead at Alabama.
Competitive by nature, she says she "came in without a lot of confidence" after having played only a little volleyball and mainly tennis in high school. Since switching to volleyball full time, her love for the game has only grown.
Even still, "I struggle a lot," she says, "and still have a lot of room to grow" as she finds herself getting pushed more into leadership roles on the team.
She's "an incredible student-athlete," says Alabama head women's volleyball coach Ed Allen. "She arrived here as [a] walk-on player, not a scholarship [student], and has earned a position as a scholarship athlete."
Allen continues: "Her gift is her intelligence, her passion for the game and the players. She has the ability to transfer information faster than any [athlete] I've ever coached in 24 years as a head coach."
While Rivers excels on the hard court, she's equally devoted to maintaining the kinds of grades that will land her a spot in medical school when she's ready to apply.
Rivers, who grew up in Birmingham, has wanted to be a doctor all of her life, she says.
"That's the sole goal," Rivers relates.
She takes a practical and efficient approach to attaining her goal of going into the medical field of pathology. One example of that is how she's using her own battle with cancer, now in remission, to learn about medicine.
Rivers has been shadowing her oncologist, Dr. David Hinton, whom she met when she started chemo treatment, which ended in July 2014.
"I love all kinds of science and am always looking to learn," she says.
Rivers also has a long love affair with reading. Her love of reading comes from her mother, a housing counselor for the Urban League who was always checking out books from the library and taking her along. Rivers' love of science caught on after her aunt bought her an anatomy book for children.
"It definitely helps that I've been interested in science for so long," Rivers says.
Nearing enough credits to complete her major in biology, Rivers has started on the requirements for a second major, Spanish.
When she's not on the court or hitting the books, Rivers finds time to volunteer for campus organizations, including Habitat for Humanity. She says having a great support system — her team, coaches and family — keeps her grounded.
And what keeps her priorities in order? "I realize that I'm in school for academics and volleyball. Those come first," she says. "It can be tough trying to manage my time, but [I] know what I'm here for."