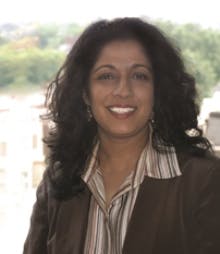 Neena Chaudhry is senior counsel and director of equal opportunities in athletics for the National Women's Law Center.Earlier this year, four members of the University of Iowa women's ­ field hockey team ­ led a Title IX complaint against their school. The complaint was unusual for a couple of reasons. First, all but one of the players still have at least one year left on the team.
Student-athletes rarely ­ file complaints against their schools for fear that they might lose their scholarships.
Second, the complaint utilized a novel legal strategy. The students alleged that ­ field hockey coach Tracey Griesbaum was ­fired for using the same hard-charging coaching tactics as male coaches. By firing Griesbaum, the players contended, the university had denied them a chance to be managed by a demanding coach and possibly cost them a shot at the championship.
In a complaint filed late January with the U.S. Department of Education as well as the Chicago branch of the Office of Civil Rights, the students argued that male coaches are given more freedom to push their players emotionally and physically.
The students' attorney said that he believes this may be the ­first case of its kind.
The world of college athletics appears poised for some big changes that could have significant implications for gender equity.
Unfair treatment
The NCAA recently announced that universities could give stipends to parents to enable them to travel to football championships and the men's and women's basketball Final Four tournaments.
It was a revolutionary decision for the NCAA, which has always maintained ironclad rules on giving­ financial assistance to student-athletes or their relatives.
Last year, athletes at Northwestern University received the go-ahead to form a union. The NCAA is loosening restrictions on the forms of compensation or aid that can be extended to athletes or, in some cases, even their families. More universities have also taken steps to ensure that there is more parity in the number of sports teams offered for men and women.
Former U.S. Rep. Jim Moran, a Northern Virginia Democrat, introduced legislation before his term ended recently that would establish a "presidential commission on intercollegiate athletics reform." This commission would be made up of members of Congress as well as sports and education experts and would study concerns related to the intercollegiate athletic system and offer recommendations for reform.
But several legal experts and scholars who follow Title IX college athletics issues say that many of these new steps and some of the looming changes may still not be enough to ensure gender parity.
Take the example of giving travel stipends to parents of college and basketball athletes.
"It's disproportionate and totally not in the spirit of Title IX," says Dr. Shawn Ladda, a professor of kinesiology at Manhattan College and the college's faculty athletics representative. "It will give extra bene­fits to about 150 male athletes and benefits to about 20 female parents. Many have said [the] NCAA is part of the problem. The NCAA is made up of institutions. The presidents and trustees need to get with the program.
"The presidents and boards of trustees have allowed athletic directors to allow cutting of women's sports and men's Olympic sports to boost football and basketball," she says. "Why do we need 110 men on these football teams? No wonder Ohio State has [a] third-string quarterback that will go into the NFL. The biggest issue here is the intent of the spirit of the law."
Erin Buzuvis, a professor of law and director of the Center for Gender & Sexuality Studies at Western New England University School of Law in Spring­ eld, Massachusetts, says a proposal was introduced a few years ago that would have resulted in football and basketball athletes receiving a $2,000 cost of living stipend.
"At ­first glance it might seem like something that's one off, but let's also look at this in context: oftentimes these decisions are made without concern for gender equity," says Buzuvis. "Anytime they're talking about just limiting it to football or basketball or revenue-producing sports or sports in which there are full scholarships, it [mostly] bene­fits men."
Some critics insist that the playing ­ field in college athletics is still not level for female student-athletes and even coaches and assorted athletic staff on women's sports teams.
While more than half of students at NCAA schools are female, they receive only 44 percent of athletic participation opportunities, according to the National Women's Law Center.
­The center says female athletes at the typical Division I-Football Bowl Subdivision (FBS) school receive roughly 28 percent of the total amount of money spent on athletics, 31 percent of the recruiting dollars and 42 percent of the athletic scholarship dollars. In addition, at the typical FBS school, for every dollar spent on women's sports, more than 2.5 times are spent on men's sports.
Consequences of parity?
As everyone knows, at most institutions, the biggest revenue generators are two men's sports: football and basketball. ­This is particularly so at leading Division I schools such as ­ The University of Texas, whose football program alone tops $100 million in revenues each year. In addition to funding the football program, the revenues at these gigantic programs sometimes help to keep many of the other non-revenue-generating sports afloat.
So might there be some unintended consequences for these revenue-producing sports in the quest for gender parity?
"­The critique about unintended consequences is off base," says Neena Chaudhry, senior counsel and director of equal opportunities in athletics for the National Women's Law Center. "Title IX doesn't say anything about cutting teams. If you look at the big institutions, about 75 percent of the budget is going to basketball and football, which also leaves very little for all the other men's sports. If schools are choosing to cut teams, that really has nothing to do with Title IX. All Title IX says is [that], if you have sports programs, you must provide equal opportunity."
­The reality is that the majority of athletic programs are not profitable, says Nancy Hogshead-Makar, senior director of advocacy at the Women's Sports Foundation and a three-time Olympic gold medalist swimmer. A large percentage of Division I programs are also unprofitable, she says.
Buzivis says that, if universities ran as businesses, it would make more sense to put more money into revenue-generating sports.
"But education isn't a business," she says. "Title IX is the law. ­ There's an expectation that there's going to be equality in something that is fundamental to our society and that we will sacrifice our way of doing business for a higher objective."
Adds Makar, "If you notice, nobody is saying, 'Let's [go] semipro,' because of the taxes. Athletic programs benefit enormously from the schools' economic systems. Most minor leagues are unprofitable."
Buzivis notes that operating under the aegis of an educational institution comes with a myriad of benefits, including the indirect receipt of federal funds, tax-exempt status and a built-in fan base of students and alumni.
"But with that benefit comes the cost of having to comply with Title IX laws," she says. "If they don't want to do that, they should disengage from education and run as a business. Capitalism has taken a backseat to civil rights in the context of education."
Buzuvis and Makar say the way forward for gender equality in collegiate sports may be going back to the basics, by making sports more inclusive for the student body. Historically, says Buzuvis, women's sports followed a participatory model.
"The consequence of Title IX was to equalize the good and the bad," she says. "There's a participatory model of sport where an institution might say participating in athletics is a good part of your education, so let's make an opportunity for as many students as possible instead of having less than 5 percent of the students participating."
"­The question is, where do we go from here?" says Makar. "Where [some] would say more commercialization and treating student-athletes more like professional athletes, I say move them back toward the educational model."