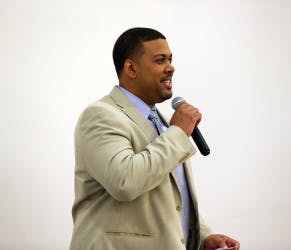 Over the past decade, a new reality has emerged in big-time college sports. ­The National Collegiate Athletic Association (NCAA) mandates that all member schools provide academic support services for their athletes. ­The services delivered, however, must do much more than keep athletes eligible to compete.
­The point of emphasis is to implement programs that facilitate athletes making satisfactory academic progress and earning a college degree. In 2003-04, the NCAA introduced the Academic Progress Rate (APR) as a method to track eligibility and retention. It's also used as a tool to predict graduation rates.
For now, all teams must post an APR score of 930 (four-year average) or 940 over the past two years to be eligible for postseason play. A new standard of only a 930 four-year average will go into effect for the 2015-16 academic year. Teams that fall below those cutoffs face possible NCAA sanctions, which could include restrictions on scholarships and practice time as well as being banned from postseason play.
Athletes at the major-college level generate huge income streams for the schools they represent. On a national scale, it doesn't get any bigger than the Southeastern Conference (SEC), which distributed a conference record of $292.8 million among its 14 members for the 2013-14 school year.
Debate over dollars
­There's been an ongoing debate about the level of spending that athletic departments at major colleges spend on academic support for athletes. Critics argue that athletes shouldn't get more help than the student body at large because they make up a small segment of the college population.
Others respond that student-athletes cannot be considered "regular" students. The situation for college athletes isn't the same because of time demands (practices, weight room workouts, competition, etc.). Given the hours athletes have to devote to their sport, it's only reasonable that they be given a genuine opportunity to compete and complete their studies.
As a former football player at the University of Louisville, Derek Cowherd knows all about the challenges of finding the right balance between sports and academics. "I don't agree with folks who bash the NCAA about the money being made off (of) student-athletes," says Cowherd, senior associate athletics director for academics and student-athlete development at the University of Mississippi.
"­There are instances where you have some athletes who might never get to attend the school of their choice because of their academic background. But because they have special skills as an athlete, they're able to attend. It's a great opportunity. It certainly was for me. As long as they have the desire, give them the (academic) support they need to help them achieve in the classroom as well as their sport," continues Cowherd.
Schools in the SEC have the level of funding to give athletes the requisite tools to help them succeed in the classroom. Here's a sampling of what conference athletic departments spend annually for academic support services: Auburn — $2.6 million; Florida — $2.6 million; Missouri — $1.8 million; Tennessee — $1.8 million; and Mississippi — $1.7 million.
Academic counseling
Academic support departments around the conference have up to 25 full-time people on staff, which includes counselors, mentors, learning specialists and a sizable number of tutors (some with more than 100 depending on the school). If needed, tutors are available for nearly every class an athlete takes. All schools have structured study halls or centers that run almost every day.
"We're finding that prospects and their families look at what schools can provide for academic support," says Dr. Gary Waters, senior associate athletics director at Auburn University. "That's part of their evaluation. They want that to be part of their college experience as student-athletes. Our primary goal is to put them on a path which puts them in a position to graduate. For most athletes, their careers will end when they're 22 to 23 years old. So, they have to be prepared for that day when it comes."
The relationship between academic counselors and athletes goes beyond having discussions about what classes to take each semester. Counselors serve as resource people who can offer personal counseling. They can also help with areas such as test anxiety and time management.
In working with counselors and mentors, athletes learn how to map out a semester-by-semester plan that will enable them to complete all requirements for their college degree.
Even though graduation is a significant part of the game plan for athletes, there's another facet that is equally important. Academic support departments are now placing just as much emphasis on preparing athletes for life after their playing days are finished.
All schools within the conference have a career development component within their programs. With the help of advisers and mentors, athletes can develop a four-year plan designed to help prepare them for a career in their chosen field.
"We have the resources, which allows us to staff a full-time person for leadership development, along with a full-time person for career development," says Dr. Keith Carodine, senior associate athletic director for academic affairs at the University of Florida. "It's a major focus for us. We're always telling our student-athletes to 'begin with the end in mind.'
"It's worked very well. Over the years, we've had 32 student-athletes (including football standouts Chris Leak and Tim Tebow) who were recognized as outstanding graduating senior leaders for the entire school."
The quality of academic support for athletes has sparked a trend among SEC schools and other conferences. A growing number of student-athletes are opting to attend school year-round as part of a systematic plan to graduate early and still have a year of eligibility remaining. Many are choosing to stay and play as graduate students or deciding to begin work on another bachelor's degree. Waters believes those numbers will continue to rise.
"Every year, there are more and more athletes who stay for the summer and take classes," he says. "They can continue to do that and graduate in less than four years. That's part of our mission to make sure that they leave Auburn with at least one degree in hand."
While all SEC schools have the level of staffing and resources to provide a solid academic support system for athletes, Cowherd believes that a personal touch can make a huge difference in regard to academic success and retention.
Because Ole Miss is centrally located among most SEC schools, its travel budget is relatively small because there is not a lot of need for air travel. Players travel by bus and return the same day or night, which allows athletes to not miss any classes the next day. If teams have to fly, they return on the same night, just like they would for a bus trip, explains Cowherd.
"We don't spend that much time traveling, so that gives our staff more time to work with the athletes," says Cowherd. "We use that time to further develop relationships. When parents come to Ole Miss for a visit, I show them everything that's available for their son or daughter.
"But I also remind them that we have people who care. We have people who will look out for their best interest all day every day. Athletes recognize that kind of commitment and they want to keep making progress. They stay motivated and do the work it takes to graduate."
The role of academic support for athletes in big-time college sports is now under the public microscope of scrutiny. Aside from the NCAA reopening the case of academic fraud at the University of North Carolina at Chapel Hill, the recent scandal involving allegations of impermissible benefits and academic impropriety by Syracuse men's basketball has cast another dark shadow on college sports. At this juncture, academic integrity figures to be a frequently discussed subject in the weeks and months to come.
Dr. Joe Scogin, senior athletics director and assistant provost at The University of Tennessee, believes that academic integrity is an issue that isn't going away anytime soon.
"There's no question that it's an important topic for oversight committees to discuss," says Scogin, who is also director of the Thornton Athletics Student Life Center. "We have to make sure that everybody does the right thing. It's our responsibility to protect the integrity of the university we represent. No result you can produce is worth a compromise of integrity."