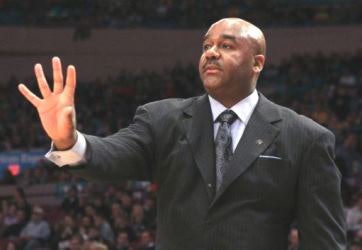 ATLANTA ― Dismayed by the dismal number of minority coaches at the collegiate level, a group of prominent minority college coaches gathered over the Memorial Day weekend to call attention to the gross disparity and to press for change.
Members of the National Association for Coaching Equity and Development (NAECD) held their inaugural meeting in Atlanta where about 60 coaches showed up to embark on an ambitious strategy of pushing colleges and universities to diversify their hiring practices when it comes to filling coaching positions.
"We want to demonstrate that we have a voice as a group," John Thompson III, head coach of the men's basketball team at Georgetown University and one of the organizers of the new association, said in an interview with Diverse. "I think, in general, the landscape is going through a metamorphosis and there is a lot of change happening and we have a chance as a group to discuss the issue from a different vantage point."
Thompson said that the new association will help to fill the void now that the Black Coaches Association has become defunct. The BCA, which at one time wielded some power, was subsequently restructured by the NCAA as the Advocates for Athletic Equity. But many of the coaches have said that not enough is being done to specifically address diversity in the industry in a holistic way.
Over three days, the coaches laid the infrastructure for the new organization, which will be headquartered in Lansing, Mich.
In his keynote address to the coaches, Dr. Richard Lapchick, director of the Institute for Diversity and Ethics in Sport at the University of Central Florida and a contributor on ESPN, said that an organized collective of minority coaches could be a powerful vehicle for pushing for inclusion and was long overdue. In his annual College Sport Racial and Gender Report Card, Lapchick gave college sports a "C+" for racial hiring practices.
The question is whether this organization—which organizers say they would like to grow to about 1,000 members, including coaches from high school and junior colleges—can turn the tide.
Its list of early supporters and founding members is nothing short of impressive. They include Thompson, Tubby Smith, Shaka Smart and others.
"When these guys speak, people listen," said Dr. Merritt Norvell, executive director of the NACED and former director of intercollegiate athletics at Michigan State University where he was responsible for the leadership of the nation's 16th largest intercollegiate athletic program. "We want to fill the pipeline with young, talented Black coaches."
Norvell said that NAECD will not just advocate for African-Americans, but for all racial and ethnic coaches. As membership grows, the organization would also like to create three separate councils for men's and women's basketball and football.
"We're talking about a lot of brothers and sisters," he said, adding that the function of the organization will be membership service and employment and advocacy around legislative issues and monitoring the actions of the NCAA.
"When there is wrong being exercised that affects our members, we will address it," Norvell said, adding that one goal of the association is to create one of the largest databases of racial and ethnic coaches in the country that colleges and universities can access when they need to fill slots.
"This will be an opportunity for coaches who don't regularly get exposure," he said. "Now, we can tell colleges, 'We've got them; don't tell us you can't find any.'"
Norvell said that pressure has to be applied to college presidents and boards of trustees to think of innovative ways to increase the diversity in their applicant pool when it comes to hiring athletes.
That kind of talk resonates with Jamaal Womack, a young assistant coach of the men's basketball team at St. Francis College and a member of the association.
"I'm just happy the dialogue is beginning," he said. "We have to close the gap in the unfair number of minority coaches out there. This is not going to happen overnight, but we have to start from somewhere."
Despite their competitiveness on the court, Womack said that all the coaches were unified in wanting to see change.
"You see these guys on the road and you play against them, but here, you get a chance to pick their brain and work toward something that's going to benefit us all," he said.
Jamal Eric Watson can be reached at jwatson1@diverseeducation.com. You can follow him on twitter @jamalericwatson