What are your responsibilities in your role as athletics director?
As the director of athletics, I am charged with providing vision, planning and leadership for the Lafayette Athletics program. In my role, I oversee 23 sport programs, their coaches, numerous staff members and approximately 560 student-athletes. As a senior staff member of the college, I set out to provide the structure and framework for excellence while promoting an environment for success.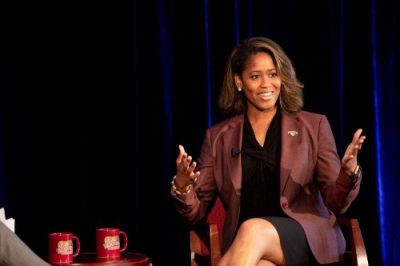 What is the most satisfying thing about your work with student-athletes?
I enjoy witnessing the commitment of our student-athletes and celebrate their successes in the classroom and in their sports. I am cheering the loudest for extraordinary GPAs, amazing career opportunities, as well as outstanding athletic performances.
How does diversity play into your role?
I believe diverse organizations are the highest performing organizations. In my role, diversity is embraced and we strive every day to improve the diversity, equity and inclusion within our department and on our campus. Lafayette Athletics shall be the program that embraces diversity, personifies inclusion and is the destination for people of all backgrounds to come together as one team thriving in an equitable environment.
What's your favorite dish to bring to family dinner or potlucks?
I love soul food. So, my go-to dish is collard greens, macaroni and cheese or candied yams.
Did you play any sports in high school, college or professionally?
Yes, I was a basketball student-athlete at Dartmouth College. I had the fortune to be a part of two Ivy League Championships ('99 and '00). In high school, I was a three-sport athlete — cross country, basketball and track and field.
What's the best movie you've seen and what did you like about it?
I am not a big movie person. So, it really depends on my mindset and whether I want to watch a comedy, historical piece or love story. But my favorite movie since I was a kid has been "The Last Dragon." Just a classic in my opinion.
What do you think the biggest challenge has been in your role during the COVID-19 pandemic?
Managing through change and preparing for various scenarios have been a challenge. However, I have a great team that has been able to support our efforts to continue to provide the highest level of opportunity for our student-athletes.
What would you recommend to a student athlete who wants to use their platform to get more involved with mainstream campus activities and/or social activism?
I encourage student-athletes to use their voices and to be leaders within our community. As our department strives to support our student-athletes and the Lafayette community, we need to hear their feedback and concerns so that we can best make adjustments to improve their experience.
What is your favorite guilty pleasure?
It's really not a guilty pleasure, but I love to shop.
This article originally appeared in the February 18, 2021 edition of Diverse. Read it here.