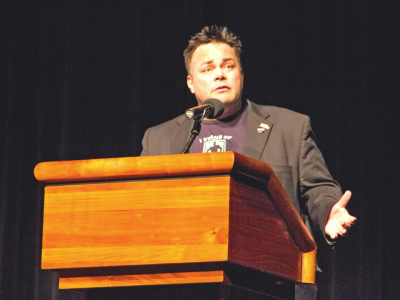 Last week, Athlete Ally celebrated a number of individuals who have been instrumental to advancing the support of LGBT athletes across the sports world. But even as the organization celebrated the likes of former NFL defensive end Michael Sam, former NBA star Grant Hill, former NBA commissioner David Stern and women's tennis pioneer Dr. Renee Richards, there was a notable absence in collegiate LGBT athletes and supporters from the program.
As athletic departments — and college campuses overall — continue to work on their diversity and inclusion plans, making a safe space for athletes who are not only gay or lesbian but also transgender or those who may be transitioning has to be a priority, say experts.
"Less than 20 percent of intercollegiate athletic programs are even having a discussion about LGB, much less transgender issues/concerns. There is a long road ahead for athletics and they need to find the starting line," said Shane Windmeyer, executive director of Campus Pride.
NCAA Director of Gender Inclusion Amy Wilson said the omission is not likely due to malintent.
"I don't think that [it's] an unwillingness to do it, as much as it's just not on schools' radar," she said of athletic departments making a concerted effort to create welcoming environments for LGBT students.
Windmeyer said schools' progress on the issue of LGBT inclusion "depends on the area of the country, the resources on the campus, type of campus, type of sport, etc. There are many variables."
Unfortunately, he said, "Much of the responsibility for a safe learning environment and even sports environment falls on the back of the out LGB student or student-athlete. When it comes to trans issues, there is complacency and lack of impetus — unless there is concern of a Title IX issue. All of this is reactive, however, and at the detriment of the trans individual. Some campuses are beginning to pay attention to trans issues for that reason."
Athlete Ally founder Hudson Taylor said the reactive nature of the urgency to address these concerns is consistent with how campuses address problems overall.
"Most campuses don't address topic matters until they are forced to," he said. "So whether we are talking about coming out or trans athletes or underage drinking or hazing or sexual assault … [few] institutions feel like they need to do anything [on the front end], because they're in a reactive state of mind."
Taylor said there are both overt and covert practices on campuses that make it difficult for LGBT students. For one, he said, the low number of out coaches in NCAA institutions signals to students who may want to come out or transition that there may not be a safe space for them to do so.
But discrimination against out coaches is very subtle, he said. It could be a coach not having a contract renewed despite success in the sport. For non-revenue sports, most coaches have only one-year contracts, and anything can be seen as a reason to not renew, according to Taylor.
"There's very little job security if you're in a non-revenue-producing sport," he said.
Not only that, "actual physical spaces [on campus] do not create an environment where [it's] ok" for a transgender athlete to transition, or for a gay or lesbian athlete to change clothes, Taylor said.
"If you feel as though your body or presence or appearance will be met with eyes that are unfriendly, then you're not going to be comfortable being in those spaces," said Taylor.
He noted that this is important — not just for athletes but for the overall student body.
"A lot of times, the restrooms that are gender neutral — if an institution even has gender-neutral restrooms at all — are like a janitor's closet," Taylor said. "They're out of the way, they're small; there's only one on the whole campus."
Though all parties agree a change must occur, Wilson said that there is not much the NCAA can do from the central office to make campuses provide a more accommodating environment.
"For there to be a change within the NCAA, it comes from our membership. … A lot of times, I think that's lost" on people demanding the NCAA drive the bus on change, Wilson said.
The NCAA's role, she said, is to help "raise awareness, provide meaningful education videos and … foster meaningful dialogue."
"We are here to provide guidance and answer their questions," said Wilson, who clarified the NCAA's role is "not telling schools what to do," but rather "providing [best] practices" they can employ in their own campus environments.
As part of this commitment, the NCAA helped fund a 50+ question Campus Pride survey to help athletics departments assess their LGBT friendliness and improve where appropriate, a tool that Campus Pride provides free of charge to the institutions.
"The index provides 50+ questions related to LGBTQ inclusion in policy, program and practice for athletics and collegiate recreation. It provides a free confidential report to help each sports program become better and resources [to help them make improvements]," said Windmeyer, who said the organization also offers individual consultations to campuses.
Taylor said the burden to make the change can't just be on the LBGT student-athletes themselves.
"It can't just be the responsibility [of those] who are impacted" to facilitate a more inclusive environment, said Taylor. "There's never been a successful social justice movement for any minority group without the support of the majority."