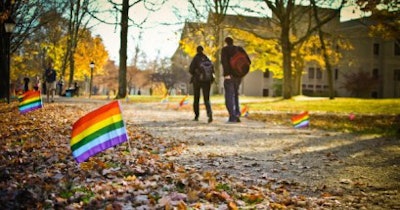 In the same year that the Supreme Court ruled on the constitutionality of same-sex marriage, institutions of higher education have sought a record number of waivers on gender inclusion policy. A recent report by the Human Rights Campaign found that 56 institutions of higher education—mostly religion-affiliated institutions—have sought TItle IX waivers that, HRC said, have allowed institutions to discriminate against LGBT students on campus.
The number of institutions seeking exemptions increased dramatically from one in 2013 to 56 in 2015, and, of the 56 schools found to have requested exemption waivers this school year, most requested exemptions "relating to housing, access to facilities and athletics," the report found. Both gender identity and sexual orientation were areas with which those schools seeking exemptions took issue.
According to the report, which alleges that students at 33 universities across the country are being discriminated against in housing, athletics, admissions, financial aid and other key components of student life, a little-known provision in Title IX law allows educational institutions controlled by a religious organization to request an exemption from full compliance if it would conflict with religious tenets.
Institutions in the South and those affiliated with the Southern Baptist Convention were most likely to request exemptions, with Wesleyan and Catholic institutions following. Somewhat surprisingly, institutions on the West Coast were second to their Southern counterparts in exemption requests. California and Texas, with six each, were home to the most exemption seekers.
"Many Americans look to their faith as a source of guidance and inspiration. LGBT individuals are no different. At the Human Rights Campaign, we believe that religious liberty is a bedrock principle of our country," said HRC President Chad Griffin in a letter included in the report. "We also believe that no one should use faith as a guise for discrimination, and that all students deserve to enter a school environment knowing they will be protected."