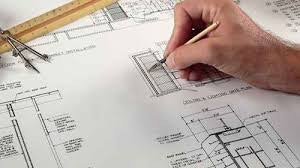 When Meghan McMullen finishes her master's degree in city and regional planning at Georgia Institute of Technology (Georgia Tech) and interviews for a job in private development, she can always bring up the fact that she and her team made it to the Final Four.
"You really are focused on something and you have that competitive drive but it's in a team environment," McMullen said. "You have to learn to rely on each other throughout this process."
McMullen is referring to the development plan that she and her teammates came up with for the Urban Land Institute Hines Student Competition, better known as the Final Four of Urban Design.
The competition, now in its 14th year, gives graduate students the opportunity to form their own multidisciplinary teams and come up with a "comprehensive design and development program for a real, large-scale site full of challenges and opportunities," according to ULI.
Student teams must be made up of students from at least three disciplines. Teams have two weeks to come up with their submissions, which include drawings, site plans and spreadsheets that explain the various project phases and costs.
Of course, when the Final Four of Urban Design takes place later this week in Atlanta—giving Georgia Tech the "home team" advantage, so to speak—it won't be watched by millions of viewers like the NCAA Men's Basketball championship games. And it doesn't inspire large numbers of people to fill out brackets that predict which college will win.
But, in reality, the Final Four of Urban Design deals with something that touches the lives of far more people than men's basketball ever will, and that is: What's the best way to develop the land in the cities where we live, work, learn and play?
Those who are familiar with the competition say the competition also is valued greatly by employers.
"You would not believe how much professional value this competition's participation has on a resume or when mentioned in a job interview," said Robert V. Krueger, senior director of public relations for the Urban Land Institute, a nonprofit research and education organization based in Washington, D.C.
Ellen Dunham-Jones, a professor in the College of Architecture at Georgia Tech and coordinator of the Master of Urban Design program, confirmed that being a Final Four participant enhances one's job prospects.
"It ranks very highly," said Dunham-Jones, who serves as faculty adviser for the Georgia Tech team. "I've had employers tell me directly that they will seek out the students who have been on winning teams."
The competition is the brainchild of Gerald D. Hines, founder of Hines, a global real estate investment, development and management firm with headquarters in Houston, Texas.
Hines wanted the competition to be a graduate-level competition that encouraged cross-disciplinary work since that is how real estate developments are built in the real world, Krueger said.
"There is no such thing as silo work in a real estate project," Krueger said. "You must work with a variety of professionals in different industries."
Dunham-Jones, of Georgia Tech, said competition provides students with insights and experiences they simply cannot get in a regular classroom.
"The reality is in school we're mostly teaching them how to produce really great outcomes once the whole thing is done," Dunham-Jones said. "But this forces them to really think about how to collaborate and come up with phasing ideas that address real estate market cycles, niche markets, and balance different kinds of ideas."
She said the competition is not about whose project makes the most profit.
"It's about how do you produce a proposal that really serves that community but also it's not going to lose money," Dunham-Jones said.
Georgia Tech will be competing on April 7 against one team from the University of Miami and two teams from Harvard University. The winning team will receive $50,000, and the finalist teams each receive $10,000.
Even though Harvard technically has twice as good a chance at winning since it has two teams in the Final Four—not to mention a record of championship wins from 2012, 2006 and 2003—Georgia Tech had sort of a "home team" advantage since this year's design challenge had to do with coming up with a development scheme for an area in Atlanta's Midtown neighborhood.
Being on familiar turf proved beneficial, Dunham-Jones said.
"Most people don't know just how hilly Atlanta is, but we are an extremely hilly city," she said. "A few of the teams from other places proposed some things that we kind of had considered but rejected because we knew how the land actually goes."
Georgia Tech's project is called "Breaking the Fourth Wall" and is envisaged as a mixed-use entertainment hub.
McMullen, the Georgia Tech team member, said the development involves compact and affordable apartments that range from studios to three-bedroom apartments, "all designed to be compact and efficient so you can reduce total square footage while still providing enjoyable living space."
Although Atlanta is becoming a film industry center, "there's not really a physical place in Atlanta that's known for entertainment, whether that's office space or places where people can go out and enjoy themselves, so that was one thing we wanted to use to anchor our development."
At the competition, teams will not only have to present their projects but answer questions about them as well. McMullen said that, although she hopes her team wins, which would be a first for Georgia Tech, she has already gotten great insight from just competing in the Final Four of Urban Design.
"For me, it's more about the learning experience along the way rather than what happens during the 20 minutes on stage," she said.
Jamaal Abdul-Alim can be reached at dcwriter360@yahoo.com or you can follow him on Twitter @dcwriter360.