Long before colleges began aggressively competing for athletic talent with generous scholarships and others lures, Ed Temple a had pretty simple plan for young ladies aspiring to run track: work hard to earn your tuition, stay focused on your studies to graduate and follow his demands on the field that you deliver your best, including always remember you are first a lady.
Temple's plan as women's track coach for Tennessee A & I State University, worked for some four decades, making him a legend worldwide among coaches and athletes.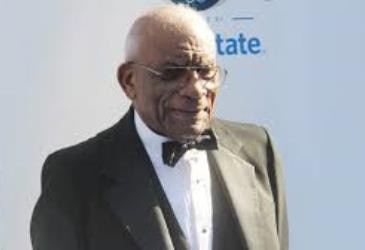 It's evidenced in part by the 40 Olympic medals won by women track athletes under his mentorship at Tennessee State (now Tennessee State University), dozens of national track honors awarded members of Tennessee State (TSU) Tigerbelles teams and, most recently, honors for him and his teams placed in the nation's new Smithsonian Museum of African American History and Culture.
Temple, a track coach in three Olympic games while coaching at TSU, retired in 1993. Still active when called upon, however, he helped Smithsonian museum collectors earlier this year when he gave them several items from his personal collection of coaching career memorabilia.
At age 89, and slightly less active that in his coaching days, Temple did not attend this year's Olympics in Brazil, sticking with a consistent post-retirement plan to never go back to the games. He was unable to join the thousands last weekend who had come to Washington from across the nation to join President Obama in celebrating the official opening of the massive museum where the achievements of his Tigerbelles are cited.
Temple died last Thursday in Nashville, according to his family, after a brief downturn in his health. No cause of death was cited.
"He knew how to treat people, was a hard worker and strict disciplinarian," said Homer Wheaton, a colleague of Temple's at Tennessee State since the early 1950s, summing up the things that help Temple achieve and stand out among his peers. Those words echoed the same thoughts voiced by many of his Tigerbelles over the years.
Wheaton and Temple were good colleagues, attended the same church and were neighbors over the years, he said. Wheaton humorously recalled how the two and a few fellow members of the church would gather Sunday mornings on a back pew and chat about the state of life.
"We would solve al the problems of the world before church started," Wheaton recalled.
Indeed, Edward Stanley Temple, an all-state high school track athlete in Pennsylvania when he was recruited by Tennessee State with a football scholarship, would learn upon graduation from TSU that the world was his oyster, if he worked at it.  He was hired as the institution's women's track coach despite it being a minor sport at the time with little widespread interest and his initial desire to coach another sport.
The obstacles aside, Temple pursued his job with such determination and focus that, within a few years, his women's track program was getting attention and respect. His first recruit, Aeriwentha Mae Faggs, of Bayshore, N.Y., had won an Olympic gold medal while she was in high school. She entered Tennessee State in 1952 as a 20-year-old freshman.
In an interview wit journalist and author Dwight Lewis, Temple credits Faggs with "putting the Tigerbelles on the map."
In the years ahead, still with no money for scholarships and barely enough in his budget to fuel a campus car he would use to drive his athletes to track meets as far away as New York, Temple was set to take his Tigerbelles to athletic victories in places around the nation and world. They visited cities, states and nations they would otherwise read about and see in textbooks.
In 1960, a decade after being hired, Temple was at the Olympics in Rome with his Tigerbellles, including Wilma Rudolph, a TSU student from Burt High School in Clarksville, Tennessee. She had been in two of Temple's summer track camps for high school students and was eager to go to TSU.
As a student at TSU, Rudolph got to run track under Temple's guidance and worked several hours a day earning tuition money sweeping the gymnasium and doing clerical work. By the time the games ended, Rudolph had won three gold medals
Their chaperone was his wife, Charlie B. Law, whom he had married the same year he became coach. Off the field, Temple's wife eventually became the confidant, mother-on-site and adviser to many of the students he recruited. She preceded him in death.
"I always looked at Coach Temple as a father figure and a man of truth and wisdom," said a statement TSU quoting Olympian Chandra Cheeseborough-Guice, a former Tigerbelle who inherited the title of TSU track and field coach from Temple.
"He is one of the finest people I have ever had an opportunity to meet," Cheeseborough-Guice said in the statement, echoing the sentiments expressed by many fellow Tigerbelles. "He really brought out the best in me. He made me realize my potential that had not been tapped."
The Museum of African American History and Culture honor comes on the heels of a number of salutes in collegiate circles and several parties in Nashville. A statue of the legendary coach was recently placed at the downtown arena that hosts hockey and other events. A section of the 28th Avenue North street that borders the university campus was several years ago renamed Ed Temple Boulevard.