Remember when star point guard Shabazz Napier of the University of Connecticut said he was hungry?
Not hungry to play. Hungry for food. Literally.
UConn had reached the 2014 NCAA men's Final Four, and food was the hottest topic that weekend. Ah, the drama of March Madness.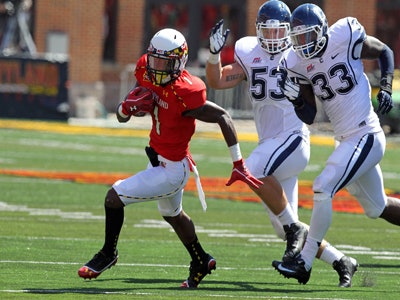 Napier told the sports media, "We do have hungry nights that we don't have enough money to get food in. Sometimes money is needed. I don't think you should stretch it out to hundreds of thousands of dollars for playing, because a lot of times guys don't know how to handle themselves with money. I feel like a student-athlete. Sometimes, there's hungry nights where I'm not able to eat, but I still gotta play up to my capabilities."
Napier's story prompted the embarrassed NCAA to declare quickly that its student athletes suddenly were granted unlimited access to food and snacks.
Some say that, if major college athletes are being paid their worth in salaries, they could buy the dinners of their choosing.
Others say that basketball and football are key revenue-producing sports for major colleges, but paying players would be a shortsighted boondoggle.
Len Elmore, a college basketball analyst for ESPN and FOX, is adamantly opposed to paying college athletes, saying it would result in deleterious long-term effects.
"I am against them getting paid as employees," Elmore told Diverse. "Paying them would be like the shiny object in the box, while education is devalued."
To pay or not to pay remains a hot-button topic — directly or not — at the annual 2017 NCAA Convention going on this week in Nashville. The organization continues to examine the amount of time Division I student-athletes spend on athletics and it approved the formation of a Student-Athlete Advisory Committee to discuss issues that impact its athletes at all levels.
In September, LEAD1, a group representing the 129 Division I athletic directors at the top-tier football schools, will hold its national meeting at the Trump International Hotel in Washington, D.C., and will court lawmakers to oppose legislation that might lead to paying athletes.
All paths in this pro-con debate inevitably lead to that familiar mantra: Follow the money.
According to Business Insider (BI), which utilized a calculus called Fair Market Value last season, men's basketball players at Louisville were valued at $1.7 million each in a free-market system. That figure, which topped the college programs, is based on the program's $45.8 million in annual revenue.
Duke was second at $1.3 million, as BI used statistical information obtained from the U.S. Department of Education.
Overall, according to BI, the average Division I player is worth $296,723 per year with the average basketball program earning nearly $8 million in revenue each year.
To calculate the figures, BI used the metrics of the NBA's collective bargaining agreement in which pro players receive at least 49 percent of all revenue. With that, the revenue was divided between the school and shared equally for the 13 players on scholarship.
Allen Sanderson is a senior lecturer in the Department of Economics at the University of Chicago. He is also a sports economist who offers a mathematical argument on why football and basketball players should be paid.
"The main argument is that two sports — football and men's basketball — generate a boatload of revenue (mainly ticket sales and broadcast contracts, but also apparel) and scant little of it goes to the chief input — the players," Sanderson told Diverse. "Economists think that firms in similar industries have similar cost structures. In the auto industry, Ford and GM have similar costs, ditto for the Washington Post and New York Times.
"In pro sports leagues — NFL, NBA — the players get approximately half of the revenues. In college sports, they get 5 to 10 percent. That gives you an idea of the extent of the exploitation, on average. The 85th guy on the Florida State football team is probably being paid about what he's worth; the quarterback is not."
Now, how about the schools?
According to USA Today, 24 athletic programs made more than $100 million during the 2014-2015 athletic year. Texas A&M grabbed the top spot with $192,608,876.
The coaches?
An NCAA-record 72 football coaches earned more than $1 million last season, with University of Michigan coach Jim Harbaugh No. 1 at $9 million. Clemson University's Dabo Swinney, who is opposed to paying players, was paid $4.42 million in base salary this season and racked up another $1.4 million in bonuses for guiding the Tigers to the national championship.
The players?
Proponents of not paying them say, wait a minute, what about the benefits of being major college athletes? The amenities they receive, some observers say, are tantamount to an employee at a major business firm in New York or Washington or Los Angeles receiving such corporate benefits as free parking in expensive downtown garages or free memberships at swanky workout or beauty spas.
Most major college football and basketball players have access to free meals, free housing, free exercise and training facilities, free medical care, free education, free books, free tutors, free travel to and from games. Even internationally.
And guess what?
Athletes have access to all those freebies as many of them train and prepare for the NFL and NBA, the next level.
Elmore, a graduate of Harvard Law School, offered, "The average student leaves college with a $30,000 debt. Athletes leave with no educational debts."
Well, Willie Huntley Jr. is not impressed. The whole world saw him last week on Capitol Hill testifying on behalf of Donald Trump's attorney general appointee, U.S. Sen. Jeff Sessions, R-Ala.
Huntley was a running back for Auburn University in the late 1970s. He graduated in 1980, two years before the arrival of legendary running back Bo Jackson. Then, Huntley attended the Cumberland School of Law at Samford University in Birmingham, Alabama.
A former assistant U.S. attorney under Sessions in Alabama's southern district, Huntley now heads The Huntley Firm in Mobile. The resourceful Huntley is doing well now, but he vividly remembers his empty pockets from his college football days.
"I think they should be paid in all divisions," said Huntley, referring to NCAA Divisions I, II and III. "They work just as hard in Division III as Division I."
OK, how about compromise scenarios? Say, pay players a yearly salary but stash the money in a trust that is only available to them upon graduation. Alternatively, institute some type of grade-associated payment plan in which players would be rewarded for maintaining high grades. And if schools pay their football and basketball players, teach them financial literacy as a university-imposed mandate.
Huntley worked at a fire-extinguisher company between his freshman and sophomore seasons at Auburn. He surely would have welcomed a salary from Auburn.
When Huntley played, any extra bucks would do.
"Just enough for a kid to go to a movie or to dinner or on a date or to buy some new clothes," he said. "Because after that first year, I had to be on campus for football — football season, spring practice, summer school, summer workouts. All year round."
Sanderson offers another pay-based alternative: abolish the NCAA.
"There's no real need in this day and age for the NCAA to exist, other than for an agency that facilitates schedules, helps with rule changes, etc.," he said. "The conference is probably the organizing unit that makes the most sense. Let the Big Ten, SEC, or Pac-12 work out their own rules, payment schemes, etc. They can then choose to pay the players or not, schedule a 10-game season or a 12-game one, etc. No need for some umbrella organization to get in the way and siphon off revenues."
The NCAA, according to USA Today, barely missed the billion-dollar mark in annual revenue in fiscal year 2014, raking in $989 million. With expenses of $908.6 million, that meant a surplus of nearly $81 million.
Moreover, there is the racial game in the room.
But from different angles.
From Elmore's side: "I don't want an employer-employee relationship. Because I don't think most kids can thrive in that environment. I think kids of color will have a harder time."
And Sanderson's side: "Here is one of the sadder aspects: most of the guys being exploited terribly are Black. Count the starting players on the 68 March Madness teams and see what percentage are Black. We should be ashamed of ourselves for doing this to them.
"And I mean as a country and as universities. These guys are the most-exploited workers — and for all practical purposes they are workers not students — in the American economy."
According to University of Pennsylvania researcher Dr. Shaun R. Harper, director of the school's Center for the Study of Race and Equity in Education, Black men comprise a paltry 2.5 percent of undergraduate students, but 56 percent of major college football teams and 61 percent of college basketball teams.
Sanderson said he believes it is only a matter of time until college players will be paid. "The court of public opinion, maybe even the courts themselves, maybe even the new Donald Trump presidential administration will demand it," he said.
Huntley, the football player-turned-Alabama-based attorney, would love to see that change during his lifetime. Because he can identify with Shabazz Napier.
"I was walking around Auburn sometimes hungry," Huntley recalled. "Back then, when the football players' cafeteria closed, there was nothing else to eat. I still remember when I was at Auburn I walked around a lot of days with just a dollar in my pocket.
"You can't do much with a dollar."
Hungry for change versus the status quo in the NCAA's game of dollars.