Although he was the first Black football player at North Carolina State University, Dr. Marcus L. Martin will be the first to admit that he didn't exactly make an indelible impression as a student-athlete.
"Typically, when we had a large lead or when we were losing badly, that's when I got to play," Martin recalls of playing as a walk-on for the Wolfpack in the mid-to-late 1960s.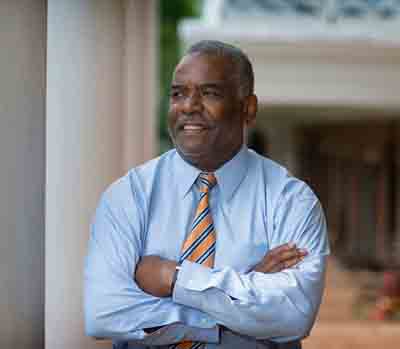 Even in terms of racial progress, Martin — who currently serves as vice president and chief officer for diversity and equity at the University of Virginia — doesn't think of himself as a trailblazer in collegiate sports.
"I walked on the team because I wanted to play football and be part of a team," Martin says.
Being the first Black player at N.C. State came at an exacting price. Rival team members and spectators hurled racial slurs at him. Some opposing players tried to spit on him and kick him.
Despite the racial animus that Martin ran into on the field, he had his sights set on goals far beyond the stadium.
"It was my determination to get the education and not be a burden to my family from the financial perspective," Martin says.
With that in mind, Martin, who hails from the paper mill town of Covington, Virginia, not only went on to graduate from N.C. State with two Bachelor of Science degrees — one in pulp and paper technology and one in chemical engineering, in 1970 and 1971, respectively — but also to graduate as a member of the first class at Eastern Virginia Medical School in 1976, becoming the school's first African-American graduate.
Today, Martin is an accomplished physician who lays claim to a series of firsts and other distinctions far more important than being the first Black to run with the Wolfpack.
For instance, Martin is the first African-American graduate of the University of Cincinnati Emergency Medicine Residency Program, the first African-American president of the Society for Academic Emergency Medicine, the first president of the Council of Emergency Medicine Residency Directors, and the first African-American chair of a clinical department — the Department of Emergency Medicine — at the University of Virginia (UVA) School of Medicine.
Martin also established the Emergency Medicine Center for Education, Research and Technology (EMCERT) and the Life Saving Techniques course for medical students at UVA using computerized human patient simulation, according to his official UVA biography.
But of all the accomplishments and honors that Martin has achieved and accumulated over the span of his storied career in medicine and academe, the one that he is most proud of came late last year when UVA established the Marcus L. Martin Distinguished Professorship of Emergency Medicine in the School of Medicine in his honor.
The significance of the fact that it all began on a football field at N.C. State is not lost on Martin, who had originally used his pulp and paper technology degree to work at the same hometown paper mill where his father labored.
"The fact that the academics was compelling for me to move to the next level and then end up with a professorship in my name, which is still — from the honors perspective — one that just about floored me when I heard that it happened," Martin says of the honor. He says the fact that it was established while he is still living makes it all the more significant.
Martin could have easily still been working at the paper mill in his hometown. In fact, the paper mill awarded him the scholarship that he used to go to N.C. State. The idea was for him to come back and apply his knowledge to improve processes and safety at the paper mill, which he did briefly as a production chemical engineer.
However, while working at the paper mill, Martin witnessed a series of work-related accidents and injuries and took an interest in medicine.
"I went from engineering to medicine mainly because I was seeing this trauma in the industry, and I always had sort of an underlying desire to take care of humans, so I essentially went from the mechanical pumps in the industry to the human pump," he says in reference to the human heart. "I didn't become a cardiologist, but as an emergency physician you have to learn about resuscitation to keep the heart going and the rest of the body as well."
As chief diversity officer at UVA, Martin has been spending much of his time lately focused on trying to bring more diversity to the field of medicine and seeking to abate harmful biases among practitioners. In this regard, Martin served as editor for the 2016 book Diversity and Inclusion in Quality Patient Care.
"By diversifying and making health care more inclusive in terms of practitioners and what we teach, we hope to reduce the implicit and explicit bias in care and improve health care and outcomes," Martin says.
Jamaal Abdul-Alim can be reached at jabdul-alim@diverseeducation.com or follow him on Twitter @dcwriter360.