Giving student-athletes opportunities to achieve academic excellence was a recurring theme at this year's Intercollegiate Athletics Forum held in New York City this week.
How do colleges and universities make sure that student-athletes are having the best possible academic experiences? At Syracuse University it is a matter of careful and detailed conversations between student-athletes, coaches, professors and advisors.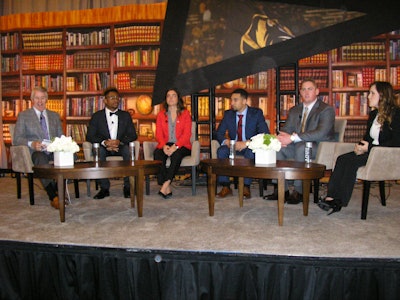 At the session Balancing Academics and Athletics: An Amateurism Case Study from Syracuse University, assistant provost for student-athlete academic development Tommy Powell said before practice and training schedules are set for a season, the coaches look at the overall course schedules and work from there, rather than constantly asking student-athletes to design course schedules around pre-designated practices.
Dr. Michele Wheatly, vice chancellor and provost of Syracuse, said it's very important that sports and academics are integrated.
"We have to embrace that and we have to find ways to work together," Wheatly said. "We have to re-emphasize that we give athletes a pathway to a bright career. It's really important for me as the chief academic officer to make sure they [have] the same opportunities as any other student."
She added, "It's important how our coaches and coaching staff behave. They all talk about academics in conversation. They set the tone."
Athletic director John Wildhack's office is situated in the academic center for student-athletes, so it's clear on a daily basis what the culture is in the athletic department. Powell said it's important for student-athletes to feel a connection to the Syracuse campus beyond the athletic department.
Syracuse track athlete, hurdler Tia Thevenin said she definitely makes sacrifices in terms of what she does, because she is focused on building her future. She is closely connected to her professors and advisors.
"Kind of like it taking a village to raise a child, we have a village at Syracuse," said Thevenin. "We have our academic support; we have that communication with our coaches. From the first day of the season, we have letters of every single competition we're going to that go to every athlete. We have schedules printed out for our academic advisors.
"Our professors know," she added. "It makes it smooth so you're not stressed all the time."
Each year, the Learfield Intercollegiate Athletics Forum presented by SportsBusiness Daily/Global/Journal has a series of panels featuring high profile individuals in the college sports world. Last year's panel with current student-athletes proved to be very well received, so it was repeated this year with a group of seniors representing football, gymnastics and golf.
A question that came up several times involved whether student-athletes have the opportunity to be involved in campus life beyond the classroom and their sports. University of Oklahoma gymnast Chayse Capps said you have to pick and choose, but it is possible.
"The balancing act—some days you're going to be an athlete and some days you're going to be a student," said Cassie Pantelas, a golfer at Seton Hall University. "I see it kind of like a triangle. You have to rotate the triangle with social life, academic life and athletic life. … Our experiences are little bit different, but you can actively find ways to immerse yourself in opportunities on campus."
Sustaining a dialog with coaches, athletic directors and administration about issues important to a student-athlete is crucial throughout the undergraduate experience. This extends to social issues. Football player Justin Jackson of Northwestern University said there were definitely conversations on his team surrounding Colin Kaepernick. On a team as large and diverse as a football team, there were divergences of opinion, but ultimately they found respect for each other's perspective.
"We have this platform," said Jackson. "You should always speak up about what affects you. You can't let people tell you that you're just a football player.
"We all respect each other's ability to have an opinion," he continued. "If we're going to go out there and take a stand, we have to make sure that we are all okay with it. If one or two people are going out there, we want to respect them. We're going to have a statement ready because if one person does it, we're all going to be asked about it. … If you come from a foundation of respect for each other, then it's okay."
"Every student-athlete should have the opportunity to use their platform," said Brad Lundblade, a football player at Oklahoma State University. "You're going to have guys with different opinions and different things they're passionate about, but everyone should have the opportunity to create change in whatever way they feel is right. You may not agree, but we're a team, we're a brotherhood and whatever the opinion is I'm going to support my brother."
In the session From the Office of the President: Upholding the Integrity and Ideals of Intercollegiate Athletics, James Danko, president of Butler University, and Christopher Howard, president of Robert Morris University (Penn.) emphasized many of the same points. They see to it that the athletic department makes sure student-athletes are excelling academically. Setting and maintaining standards remains a priority.
When there are mistakes and missteps on the part of the student-athletes, it's important to react promptly and be receptive to media inquiries. This also goes for injuries.
Danko and Howard noted that there are obvious wealth disparities among institutions in higher education. Both said they hope the NCAA continues to deal with these still-evolving issues as well as remaining focused on high priority issues such as concussions and other injuries.