In the dizzying merry-go-round that is the hiring of head coaches in college football, Willie Taggart is an island of one. He is the only Black head coach to serve four Division I Football Bowl Subdivision (FBS) major-college programs: Western Kentucky, South Florida, Oregon and Florida State.
While White head coaches hopscotch the nation in search of wins — and more money — the same employment pattern usually doesn't apply to Black head coaches.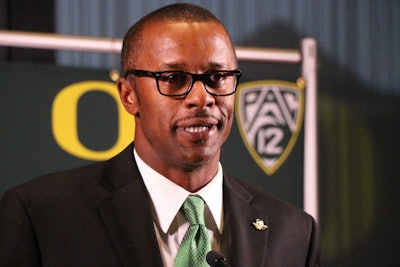 Taggart's feat puts him in the same league as Nick Saban, who has been a head coach at Toledo, Michigan State, Louisiana State and currently Alabama.
And how about Urban Meyer — who held head-coaching positions at Bowling Green, Utah, Florida and Ohio State?
Bottom line: For Black head coaches in college football, getting a fourth chance is as rare as Halley's Comet. And getting a second or third shot as a Black head coach is akin to Steven Spielberg directing a bad movie. It can happen, but not too often.
Yes, coaches such as Charlie Strong and Tyrone Willingham have held three head-coaching positions, but the recycling game has usually bypassed Black head coaches the past 20 years. During those two decades, some Black head coaches were in set-up-to-fail scenarios at major schools for various reasons, ranging from a lack of practical preparedness on the part of the coaches to lack of full administrative support.
So how did Taggart land four head-coaching gigs in major-college football?
Dr. Brian Joseph, an educational consultant based in Southern California, a former professor of humanities and English at the University of Phoenix and a former adjunct education professor at the University of Southern California, believes he has the answer.Check the box that highlights the prerequisites, he says. Joseph has studied data analytics on Black head coaches at major colleges for the past few years; his findings are compelling as they present a formulaic blueprint for reaching head-coaching status.
Those findings begin primarily with quarterbacks coaching and secondarily with relationships.
Examine Taggart's résumé: How does a 41-year-old Black head coach with a career sub-.500 cumulative win/loss record — 47-51 — continue to land jobs in the Power 5 conferences?
In the relationship department, Taggart has benefited from his association with the Harbaugh football family. Taggart was recruited to Western Kentucky by Jim Harbaugh to play for his father, Jack Harbaugh, whose other son, John, aided in recruiting. Taggart played there from 1994-1998. Later, Taggart was Jim Harbaugh's running-back coach from 2007 to 2009, when Harbaugh led Stanford.
That Harbaugh connection, of course, helped Taggart secure his landings at Oregon and currently Florida State.
Before becoming a head coach, Taggart was the quarterbacks coach at Western Kentucky from 2000 to 2006, with the first three seasons under Jack Harbaugh. He later was co-offensive coordinator and associate head coach at Western Kentucky. In 2010, Taggart was named head coach at Western Kentucky; in 2012, he led Western Kentucky to its first-ever FBS-level bowl game, the Little Caesar's Bowl. The next season, Taggart left for South Florida.
Still, Taggart finds himself in a win-or-else situation at traditional powerhouse Florida State, which won a BCS national championship in 2013 and was in the hunt for another in the College Football Playoffs in 2014. Ten head coaches — all of whom have been White — have coached in the College Football Playoffs. Therefore, Taggart probably has the best opportunity to one day be the first Black head coach to coach in a CFP national championship game. But, first, because of Taggart's 47-51 career-coaching record, he still has much to prove.
The prerequisites gleaned from data analytics, however, are in his favor.
"If you look at Black head coaches, what do Willie Taggart, James Franklin and David Shaw have in common?" asked Joseph in an interview with Diverse. "They all were quarterback coaches in their careers before they became offensive coordinators and head coaches."
The quarterback position in major college football has risen exponentially in importance, mainly because of the increased emphasis on the passing game, much like the NFL, where a quarterback is viewed as sort of a de facto CEO on the field. The quarterback position undoubtedly is the most important position for most teams, perhaps the most important position in all of sports.
Teams that win national championships have stellar quarterback play. (Remember Deshaun Watson of Clemson last season, who orchestrated the game-winning drive in the final seconds against Alabama?)
Two years ago, Don Yee, a super-agent who represents such NFL stars as New England Patriots quarterback Tom Brady, wrote an opinion article for The Washington Post about the state of the union for Black head coaches. Yee opined that the NCAA's system, generally speaking, was rigged against Black head coaches and those aspiring to land such jobs.
"It's predictable because the entire decision-making apparatus is dominated by White men, who, as the numbers show, may possess a very, very narrow world view," Yee explained. "Let's start at the top: The NCAA has never had anyone but a White man as president. Of the Power 5 conferences, none has ever had anyone but a White man as commissioner.
"The corporate head-hunting firms hired by universities to conduct head-coaching searches are all run, at the top, by Whites. The people who shape the news coverage, which is highly influential to the hiring process, are also mostly White.
"When these statistics are overlaid with numerous psychological studies on hiring practices and unconscious biases that suggest we tend to favor those who are similar to us, it isn't too hard to see why a Black coach is going to have a hard time becoming a head coach."
However, Joseph said citing race s the chief mitigating factor in the hiring of Black head coaches is  major oversimplification, and he prefers instead to rely on empirical evidence.
"Every athletic director will always claim they will hire 'the best candidate' while never publicly admitting hiring practices are based on race, but you can't measure or calculate if a hiring decision was based on race," said Joseph. "Black candidates that have ascended to the head-coaching position have generally done so at a fast rate, provided they have taken the path. African-American head coaches David Shaw, James Franklin, Willie Taggart and former Texas A&M head coach Kevin Sumlin all spent less time as assistant coaches than the national average.
"The four aforementioned took the path of becoming quarterbacks coaches and later offensive coordinators. So if the unofficial prerequisite to becoming a head coach is becoming a coordinator, then training quarterbacks places coaches on the fast track to head coach. But this is true for all coaches, not just Black coaches."
Joseph said his data analytics reveal the average wait length from taking that first assistant job to landing that first head-coaching position is 18.9 years, and his research suggests that taking entry-level positions such as that of graduate assistant or student assistant — which means long working hours for very low pay — can be a prodigious launching pad for aspiring head coaches because accepting such jobs shows tremendous dedication and perseverance.
Stanford's Shaw fits Joseph's template for the road from assistant to head coach. Shaw was Stanford's offensive coordinator in the four years prior to him becoming the team's head coach. And who did he replace as head coach? Jim Harbaugh. Before that, Shaw had been quarterbacks coach for three NFL teams (Philadelphia Eagles, Oakland Raiders and Baltimore Ravens), and was passing-game coordinator at the University of San Diego.
As for the pace of hiring Black head coaches, Shaw referenced his father as a measuring stick during an interview with ESPN in 2015:
"Sometimes it feels like a cruise ship going across the horizon, where it's just going so slow. But when you get up on it and look really close, it's actually going pretty fast. To say that it's not complete equity, yeah, I can say that. But at the same time, for what my dad went through and his generation of coaches in college and in the NFL, it is so much better than it's ever been."
Shaw's father, Willie, was a defensive assistant coach both in the college arena (including Stanford) and the NFL arena from 1974 to 2002. Also note that Stanford is the only major-college football program to hire three Black head coaches — Dennis Green (1989-1991), Tyrone Willingham (1995 to 2001) and Shaw from 2011 to present.
This is the first of a two-part series, "The Hiring of Black Coaches," about the effort to diversify major college football.