Penn State University's James Franklin was the quarterbacks coach and offensive coordinator at Kansas State in 2006-2007 and quarterbacks coach, offensive coordinator and associate head coach at Maryland from 2008-2010.
The next year, Franklin was named head coach at Vanderbilt University.
Franklin is an exception, because the rise to head coaching positions in college football has been more difficult for Black coaches. A study of data analytics on Black head coaches at major colleges in recent years suggests that the odds favor those who have coached quarterbacks and cultivated professional relationships.
However, room for advancement doesn't reside only on the offensive side of the ball. The defensive side has produced four Black head coaches who work in the Power 5 conferences.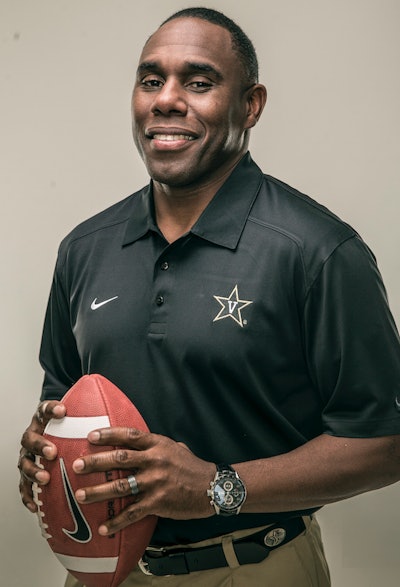 Dr. Brian Joseph, an educational consultant, says his data show the key defensive stopover on the journey to head-coaching positions lies in the secondary: defensive-back coaches.
"Many offenses are throwing the ball 30-40 times a game, and, as a result, defenses have traded in traditional 4-3 defenses for defenses that routinely utilize five defensive backs," said Joseph. "This has made the defensive backs coach an integral part of the defensive coaching scheme and hierarchy.
"Of the current head coaches within the Power 5 [conferences], 24 of 62 were former defensive coordinators and 19 of these were former defensive-back coaches. The current Black head coaches with defensive coordinator experience were all defensive backs coaches at some point in their early careers."
Herman Edwards, head coach at Arizona State, was defensive backs coach at San Jose State from 1987 to 1989. Then after two years of scouting for the Kansas City Chiefs, he became defensive backs coach for the Chiefs from 1992 to 1995. Afterward, he was defensive backs coach and associate head coach for the Tampa Bay Buccaneers from 1996 to 2000. The next year, he was named head coach of the New York Jets. Edwards also played defensive back in the NFL for 10 seasons.
Dino Babers, head coach at Syracuse, is also a telling case. He played on both sides of the ball, running back and defensive back, at Hawaii and coached on offense and defense. He coached defensive backs at Northern Arizona and quarterbacks at Arizona and Texas A&M, where he also served as offensive coordinator for both schools. Later, he became head coach at Eastern Illinois, a Division I FCS program where he coached quarterback Jimmy Garoppolo, now leading a late-season revival of the San Francisco 49ers in the NFL. Babers' career all began when he served as a graduate assistant at Hawaii and Arizona State.
Lovie Smith, head coach at Illinois, also followed the defensive backs model. He played defensive back at Tulsa, then later coached defensive backs at Tennessee and Ohio State. He was the St. Louis Rams' defensive coordinator from 2001 to 2003, during their playoff years and a Super Bowl appearance. In 2004, Smith was named head coach of the Chicago Bears.
Derek Mason, head coach at Vanderbilt, played defensive back in college at Northern Arizona, then coached defensive backs at Bucknell, with the Minnesota Vikings and at Stanford. From 2010 to 2013, Mason was defensive backs coach at Stanford, co-defensive coordinator, associate head coach and defensive coordinator.
Then, in 2014, Mason was named head coach at Vanderbilt, replacing James Franklin.
The moral of the story, according to Joseph: Some assistant coaching positions are more important than others. Coaching positions such as running backs or defensive linemen could be a waste of time, especially if an assistant coach never reaches the coordinator level.
But what about proportionality? There are 12 Black head coaches in Division 1 FBS major-college football, including seven at the aforementioned Power 5 conferences. But that's out of 128 FBS teams altogether. So that's 9.3 percent. Three other Black head coaches were fired in the past year — Darrell Hazell at Purdue in 2016, after a four-year stint; Paul Haynes at Kent State in 2017, after a five-year tenure; and Kevin Sumlin at Texas A&M in 2017, after a six-year reign.
Still, more than 50 percent of FBS players today are Black, with the percentages skewed even higher at such powerhouses as Alabama and Clemson.
"White candidates are hired at a faster rate within the Power 5 conferences," said Joseph, "but this is partly based on the simple fact that there are more to choose from. As of the 2016 season, there were nearly three times as many White assistant coaches, 641 vs. 221, than Black."
One curiosity is the status of Tee Martin, the offensive coordinator at the University of Southern California. Martin had been a quarterbacks coach and/or passing-game coordinator at four colleges and two high schools. He played quarterback at Tennessee and even led his alma mater to the BCS national championship in 1998, the season after much-heralded quarterback Peyton Manning left.
Yet, Martin was passed over for the Tennessee head-coaching position after Butch Jones was fired in mid-November. Tennessee thought it had a new coach in Ohio State defensive coordinator Greg Schiano, but a potential deal was undercut because of an uproar by social-media naysayers who voiced their displeasure with the Volunteers hiring a head-coaching candidate who was part of Penn State's program during the years of Jerry Sandusky, the disgraced defensive coordinator convicted of child sex abuse and sexual molestation.
As a result, Tennessee subsequently hired Jeremy Pruitt, the defensive coordinator at Alabama. Nevertheless, Martin should be a dynamic story in major college football the next few years.
Martin probably will get more opportunities to show his wares at USC in 2018 because Tyson Helton left the Trojans to take the offensive coordinator/quarterbacks coach position at Tennessee and join Jeremy Pruitt.
Speaking of other coaches in the College Football Playoffs, let's observe their résumés and backgrounds:
—Alabama's Nick Saban was a graduate assistant at his alma mater Kent State during 1973-1974 before serving as defensive backs coach for four colleges and the NFL's Houston Oilers. He landed his first defensive coordinator position at Michigan State in 1983. It took Saban 17 years to attain his first head-coaching position, for one season at Toledo in 1990. The following season, head coach Bill Belichick hired Saban as his defensive coordinator with the NFL's Cleveland Browns. Saban played defensive back at Kent State, where he also earned a bachelor's degree in business and a master's in sports administration.
—Clemson's Dabo Swinney, known for his colorful personality, has several appealing segments on his résumé. He was a graduate assistant for three years at Alabama and he was an SEC All-Academic student-athlete from 1990-1992 at Alabama, where he played as a walk-on wide receiver and won a national championship in 1992. In 2007-2008, Swinney was Clemson's offensive coordinator and associate head coach, until head coach Tommy Bowden resigned in 2008 and Swinney was named interim head coach. He was promoted to full-time head coach next season. He has spent his entire coaching career at Alabama and Clemson, where he became head coach in 2009. The wait time for his first head-coaching job: 16 years.
—Oklahoma's Lincoln Riley is a 34-year-old first-year head coach at the program. After playing quarterback for Texas Tech in 2002, Riley was a student assistant at Texas Tech from 2003 to 2005 and a graduate assistant at the school in 2006. He then became the quarterbacks coach, offensive coordinator and associate head coach at East Carolina for four years before joining Oklahoma as quarterbacks coach and offensive coordinator in 2015. As Oklahoma's offensive coordinator, Riley received the Broyles Award, given annually to college football's top-rated assistant coach. When Bob Stoops resigned as Oklahoma's head coach after the 2016 season, Riley replaced him in 2017. Interestingly enough, one of Riley's first moves was to hire a 59-year-old Black coach named Ruffin McNeill, who was Riley's former head-coaching boss at East Carolina, as his associate head coach/defensive tackles coach. The wait time for Riley's first head-coaching job: 11 years.
—Georgia's Kirby Smart, 44, was a defensive back at Georgia, where he led the team in interceptions in 1997 and 1998. Then, after earning a bachelor's degree in finance at Georgia, he worked as an administrative assistant for Georgia in 1999 before coaching defensive backs and serving as defensive coordinator at Valdosta State in 2000 and 2001. Interestingly enough, Smart returned to the classroom to earn a master's degree in physical education at Florida State, where he also served as a graduate assistant under legendary coach Bobby Bowden in 2002-2003. Afterward, Smart began his association with Nick Saban, first as Saban's defensive backs coach at LSU, then Saban's safeties coach with the Miami Dolphins in 2006 and Saban's defensive backs coach at Alabama in 2007 before becoming the team's defensive coordinator, where he also won the Broyles Award. Smart became Georgia's head coach in 2016. The wait time for his first head-coaching job: 17 years.
Though the Black head coaches in the Power 5 conferences receive most of the national attention, there are five Black head coaches in the other Division I FBS conferences.
Charlie Strong, fired by Texas in 2016 after a three-year stint, just finished his first season at South Florida with a 10-2 record after replacing Willie Taggart; Mike Jinks has been head coach at Bowling Green since 2016, replacing Dino Babers; Scottie Montgomery assumed the head-coaching position at East Carolina in 2016, replacing another Black head coach, Ruffin McNeill; Everett Withers joined Texas State in 2016 after leaving James Madison, a Football Championship Subdivision (FCS) school where Withers was a finalist for the Eddie Robinson FCS Coach of the Year Award; Frank Wilson was hired at Texas-San Antonio in 2016, replacing Larry Coker, who led the Miami Hurricanes to a national championship in 2001.
Randy Shannon was promoted from defensive coordinator to interim head coach at Florida in October 2017, replacing Jim McElwain. Shannon served to the end of the season, as Florida ultimately hired Dan Mullen to be the new full-time coach. And Turner Gill has been the head coach at Liberty University, a FCS program, since 2012, after coaching at two FBS programs — Buffalo and Kansas.
During the 2015 season, there were 12 Black head coaches in Division I FBS, the same as today.
Ten years ago, Dr. Richard Lapchick, head of the Institute for Diversity and Ethics in Sport at the University of Central Florida, advocated the creation of a "Eddie Robinson Rule," which would be the college version of the NFL's Rooney Rule. That means the "Eddie Robinson Rule" would force universities to interview at least one Black candidate for head-coaching positions. Such a rule would be helpful, but the NCAA cannot formally implement the system because the organization maintains a non-profit, voluntary status, and is therefore unable to influence hiring practices among its member entities.
In the sports data analytics department, Joseph said, yes, race can be a factor, but it isn't the be-all and end-all. For those who suggest the hiring or non-hiring of Black head-coaching candidates in major-college football is more about race than résumé, he said:
"While many cite the lack of Black head coaches in the Power 5 in major college football, what is never mentioned is the fact that approximately 30 percent of the coaches are Black, thereby making the pool to choose from very small. In addition, when one factors in those candidates that are in a better position to become head coaches with a high probability of success, the pool becomes even smaller.
"There is a higher probability for success when you have done the prerequisites."
This is the second story in a two-part series about the effort to diversify major college football.