For all the heightened chatter this year about whether college student-athletes should be paid, Dr. Kenneth Shropshire suggests that making their education a priority is more important than a microscopic focus on financial compensation.
"The most important issue in college sports is educating the student-athlete," Shropshire said. "Why are we stuck on this payment issue? Not to say that it's not important, but education is more important."
Shropshire made the remarks recently when he led a lively panel discussion as part of Arizona State University's Global Sport Institute, of which Shropshire is the chief executive officer.
For the last week, Arizona State has been celebrating its new eight-story, 32,000-square-foot, Washington, D.C. campus with a series of panel discussions, speeches, receptions and other events encompassing topics ranging from national security, locusts and self-driving vehicles to police tactics, STEM and sports.
Formerly housed near the DuPont Circle neighborhood, the new campus is at the impressive Ambassador Barbara Barrett & Justice Sandra Day O'Connor Washington Center, a short walking distance from the White House.
Arizona State, through a partnership announced in June with Adidas, created the Global Sport Institute to research sports matters such as helmet technology, Gatorade effectiveness and academic adaptations in the sports world. Home base is the ASU Scottsdale Innovation Center in Arizona. Shropshire also is the Adidas Distinguished Professor of Global Sport at GSI.
The sports panel discussion, titled "For the Win: Innovative Approaches to Athlete Education," focused on academic challenges facing college and professional athletes. And, as often happens, when the topic turns to major-college revenue-producing sports, the discussion quickly pivoted to the Black athlete.
A graduate student at the University of South Carolina asked panelists why there is so much debate about and focus on Black student-athletes.
Dr. Collin Williams, southern regional director for the Ross Initiative in Sports for Equality (RISE), answered: "Why do I focus on the Black athlete? Because Black athletes in these schools often are the most ill-equipped to handle the transition to college."
Founded in 2015 by Miami Dolphins owner Stephen M. Ross, RISE's mission is to utilize the unifying power of sports to improve race relations and spur social progress worldwide.
So, what does "ill-equipped" mean?
After the panel, Williams, who received his bachelor's degree in sociology and a Ph.D. in higher education from the University of Pennsylvania, told Diverse in an interview that "in their orientation process, many of them (Black athletes) haven't had the same experiences as other college students. Many of them are coming from less rigorous schools, with lower SAT scores, lower-income households, from more challenging neighborhoods."
Another reason is that high-profile Black athletes dominate the revenue-producing sports in lopsided numbers. That makes a huge difference because of the always-hovering monetary element in big-time college athletics.
The reasons that Williams cited are factors in why it's usually Black players caught up in the middle of payment scandals and back-room, under-the-table deals involving student-athletes. Look no further than the alleged bribery, fraud and cheating incidents – which included sports agents, shoe companies and coaches – uncovered recently by a widely publicized and broad-scoped FBI investigation.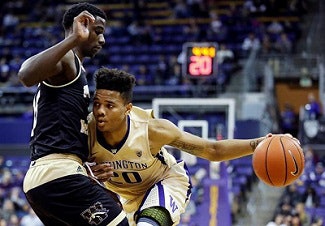 That's why the Congressional Black Caucus announced March 8 that it is forming an eight-person task force to examine these issues. Cedric L. Richmond, chairman of the CBC, said college student-athletes must be protected from a "predatory situation."
In an interview last week with the McClatchy Newspapers Washington Bureau, Richmond said: "We're not going into this with a solution in mind, but we do understand there's a big problem. We have more of a responsibility, whether it's fiduciary or just in general, to take better care of them and to protect them. We still have to remember that a lot of them are 17-, 18- and 19-year-old young people playing in a multibillion-dollar industry, and you have so many adults that want to prey on them that we should look at it in that sense and try to protect them."
Asked his opinion of the CBC task force, RISE's Williams responded, "I think it's important what they are doing. We have to pay attention to all the signs that we are seeing and make the necessary adjustments. Or even reforms."
Speaking of reform, Williams and Shropshire wrote The Miseducation of the Student Athlete: How to Fix College Sports. The book lays out "The Student-Athlete Manifesto," a roadmap to increase the likelihood that student-athletes succeed both on and off the field or court. It was published in 2017 while Shropshire was closing out a 30-year career as an endowed full professor at the Wharton School of the University of Pennsylvania, where he also was director of the Wharton Sports Business Initiative, professor of Africana Studies and academic director of Wharton's sports-focused executive education programs.
As the intense scrutiny of major-college sports from various organizations increases, the billions continue to multiply with each successive NCAA television contract. Take, for instance, the annual NCAA basketball tournament known as March Madness.
The monetary issue was addressed by another panelist, Amy Perko, chief executive officer of the Knight Commission on Intercollegiate Athletics, an independent advocacy organization that recommends academic reforms to the NCAA.
"March Madness generates over $800 million every year, and the majority of that money is sent back to Division 1 schools," said Perko. "Forty percent of the money sent back is based on how teams perform in the tournament. Our commission said that is too much money being placed on tournament success and incentive-driven behavior. In 2016, they changed the revenue distribution for the tournament money. For the first time, incentives will be aligned to graduation and academic success moving forward."
Panelist Arthur McAfee, senior vice president of player engagement in the NFL, spoke of the league's degree verification rates. He said one team had a 75 percent graduation rate out of 65 players; another was at 37 percent; and most teams are somewhere in the middle.
He also noted that, historically, NFL teams' rosters feature more college graduates at the end of the season than at the beginning. Why? Because as the season progresses, there is a push for more veteran players. And they tend to be more seasoned by experience, which includes academic success.
McAfee also mentioned that the NFL, through negotiations with the union in formulating the league's collective bargaining agreement, in the 1990s began setting aside money to help players return to school. The plan also tailors educational programs to help players get situated in their quest for continuing education. For instance, a player interested in engineering could target that field through the NFL's special programs.
As for student-athletes in college, McAfee advocated a national curriculum system.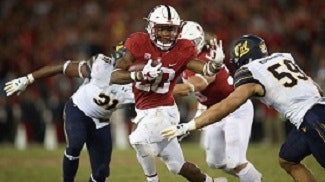 "The athletes come to campus, they have to major in these things that the university offers, but there is no national curriculum for athletes," he said. "So it's possible, maybe, to create a national curriculum for athletes, because all the rules they play by are national rules. It's always, in my mind, a policy decision by the institutions to create a circumstance that would be favorable to the athletes as they think forward beyond just their university's core curriculum in terms of education."
In a commercial that airs during football and basketball seasons, the NFL touts education with Hall of Fame wide receiver Jerry Rice as the featured spokesperson. In the commercial, Rice says, "There are over 480,000 college athletes. Only 2 percent will go pro. That means over 470,000 will not get a shoe contract. No autographs. No private jets. No fan clubs. No Hall of Fame inductions. Instead, they will walk away with something much more valuable."
He's talking about an education.
For Rice, it took 17 years to earn a B.S. degree in health and physical education at Mississippi Valley State, mainly with the help of correspondence classes and independent study. He is an example of a what panelist Martin Carlsson-Wall, an associate professor at the Stockholm School of Economics in Sweden, termed the "two-identity" athlete. As an athlete progresses through his career, he should have stock in two fields to avoid becoming a falling star in both.
Said Carlsson-Wall, "One issue that we are discussing, and other countries are discussing, is the issue of individual identity," said Carlsson-Wall. "In Sweden, our sports stars are also struggling with this identity shift – that you're really someone, and then the lights are just completely not there anymore. They are really struggling about their identity. And what we ask them is, 'Do you want to be a one-career individual, or do you want to be a two-career individual?'"
Carlsson-Wall also spoke of the importance of role models as an example of success for the younger generation. Just as Rice became a standard for thousands of Black kids, especially those in rural Mississippi, mercurial and multi-layered soccer superstar Zlatan Ibrahimovic is important to Sweden's community of immigrant families from eastern Europe, Iran and Afghanistan.
Ibrahimovic grew up in tough circumstances in a high-unemployment, crime-ridden section of Rosengard near Malmo, Sweden. Born to a Muslim father from Bosnia and a Catholic mother from Croatia, Ibrahimovic is a popular figure among Sweden's migrant population who can identify with navigating tough times.
Ibrahimovic's autobiography, I Am Zlatan, is especially celebrated among young people from those migrant families. The book catapulted his neighborhood into the international spotlight to the point it's become something of a tourist attraction.
"He has tremendous influence," Carlsson-Wall explained. "We need more role models."
Panelist Molly Ott, assistant professor in the Division of Educational Leadership and Innovation in the Mary Lou Fulton Teachers College at Arizona State, commented about the work week of major-college athletes – work week, as in 37 hours per week devoted to their sport, she said.
And while athletes work, the schools reap the financial rewards.
"Top football players who go into the NFL are bringing in $1.3 million individually to their colleges and universities," said Ott. "What are the benefits that athletes are receiving, both in terms of the actual degree itself, but also the experience they have and the learning opportunities and skills they develop in college? There are trade-offs. That's the issue: ensuring that there are equitable opportunities for athletes balancing out their academic and athletic commitments."
That $1.3-million figure is from a 2005 research study and illustrates how college athletes can drive ticket sales, merchandising, memorabilia purchases, alumni donations, television revenue, etc. Imagine what that figure would be today, 13 years latrer, as the football money pot has grown exponentially.
Dr. Robert Brown, a professor of economics who conducted the study at California State University-San Marcos, gave his assessment to Diverse.
"The estimate was for a future NFL draftee from one of the top revenue-producing college teams," said Brown. "Estimates were somewhat less for lower-revenue teams. That said, I think the values would be considerably higher today. For instance, the Department of Education Equity in Athletics Disclosure data indicate that college football revenues have about doubled since 2005.
"This is expected, given the market forces at play in college football during the last 10 to 15 years – in particular, the College Football Playoff system, ESPN's contract to broadcast the games, the various conference television contracts and the like. I think this is a reasonable inference, although keep in mind that I do not have statistical estimates of the more recent values."
To Williams, maintaining academic eligibility is not synonymous with getting an education.
"Keeping these kids eligible is not about education," he said. "When we look at the student body overall, Black male student-athletes are performing worse than the Black male undergraduates who are not athletes. They are performing worse than student-athletes overall, as well as worse than undergraduates overall. We have to look at this problem not as just a large-scale problem, we have to hone in and pay attention to the space that needs the most attention. Black graduation rates have gone up by 2 percent in the last few years, but a lot more work has to be done."
One program designed to help student-athletes better compete academically is the Scholar-Baller Initiative. Designed by Dr. C. Keith Harrison at the University of Central Florida, the program uses pop culture, entertainment and music as teaching tools at the high school and college levels.
"It helps to get athletes to realize that scholars are cool, too," said Arizona State's Ott.
Perko of the Knight Commission also suggested that colleges consider implementing an international academic program for student-athletes, especially college basketball players, because of available opportunities.
"The NCAA does a study, and they ask Division I, II and III basketball players, 'How many of you think you're going to go pro?' And, as you might expect, more than three-quarters of the Division I players think they are going to be professional. Fifty percent of Division II players think they're going to play professionally. And 25 percent of Division III players think they are going to play professionally."
But, Ott continues, the optimism doesn't jibe with reality.
"Statistically, in Division I, only about 3 percent are going to be drafted by the NBA. But there are lots of leagues around the world. Of the Power 5 conferences, 75 percent of the basketball players will play somewhere professionally. The majority of those are going to be internationally. What are we doing, as educators, to help get them ready for that opportunity?"
After the panel discussion, Shropshire conversed with Jacques McClendon, director of player engagement for the Los Angeles Rams.
Shropshire asked about convincing NFL players to return to college. McClendon, who played for the University of Tennessee, where he also received his economics degree and master's in sport management, responded: "For these guys, they want to know the why. 'Why do I go back to school? I'm making — the minimum is $450,000 — and you're telling me a college graduate makes $60,000. Why do I need to go back to class?'"
McClendon added: "College is more than just about getting a degree. It's also about getting internships, experiencing the academic life on campus and making networking connections."