LeBron James, a forward for the Los Angeles Lakers, has opened a public elementary school named I Promise School. The school is a partnership between the Akron, Ohio Public School system and the LeBron James Family Foundation, Sports Illustrated reported.
James has a history of supporting education initiatives across the country and providing scholarships to help disadvantaged kids attend college. But opening this school in his hometown of Akron is special for him.
"This skinny kid from Akron who missed 83 days of school in the 4th grade had big dreams…big dreams for the kids in Akron to give them everything they could need to find their passion, give back to our community and change the world!! This school is that. The people are that. Akron is that," James tweeted on Sunday.
The school opened Monday and its incoming class will include 240 third- and fourth-grade students who were chosen based on socioeconomic status and educational performance.
Gerard Robinson, executive director of the Center for Advancing Opportunity, said he thinks this school is a great thing for two reasons:
" It's always good to see a 'hometown hero' return home and actually invest in a project that's going to be great for the city," sid Robinson. Second, "It's good to see the school created in a partnership between a philanthropic organization – his foundation – and the public school system. These are kind o,f some would say, public-private but I would just call it partnerships I think are vitally important to make access to public schooling available to all, particularly when it's high quality."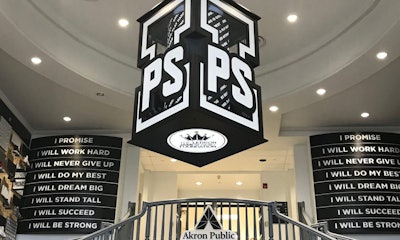 I Promise School plans to expand grades offered to first- through eighth-grade by 2022 and has a faculty of 40 people in efforts to give students longer school days and a longer academic year.
Starting in 2021, students who graduate from I Promise School will earn free tuition at the University of Akron.
Jame said his desire to help children who are struggling get a good education comes from his own childhood experiences.
"Every one of these kids, maybe they don't become LeBron James on the basketball court, but they become the LeBron James of their passion and dream in life. I know these kids basically more than they know themselves," James said in a video posted on Twitter. "Everything that they're going through as kids, I know."