Brunel University in London has launched a sports hijab in an effort to increase Muslim women participating in sports.
Several sportswear brands have introduced a sports hijab in the past, however Brunel University will be directly supplying the hijabs to their students.
Eighteen percent of Muslim women participate in regular sport, compared to 30 percent of the UK's female population as a whole, according to a 2017 Sports England study.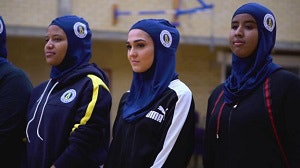 "I genuinely think it's a lifesaver," gym-goer and business management student Faith Al Saad told BBC Sport. "It feels like you're wearing nothing on your head."
"Muslim women were of course participating in sports on their own and in private, but they weren't really going out to competitions, or using sport as a social tool to get involved in activities," Brunel student union president Ranjeet Rathore added.
University officials hope that other institutions will follow its example and introduce their own sports hijab designs to continue encouraging participation.
"There are now other universities that want to partner with us, who want to take samples off us, who want to do their own hijab – which is great news," Rathore said.