Fans who visit the spot where basketball was invented can pose for a photo with a statue in Springfield, Mass., and those interested in the purported site of the first baseball game will find a tidy, thigh-high stone monument and plaque in Hoboken, N.J.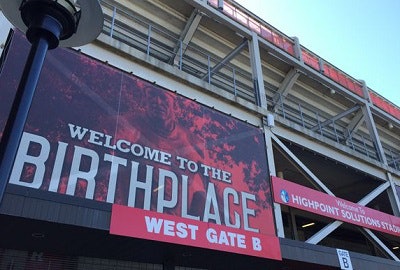 Meanwhile the birthplace of American football is marked by a sign threatening to tow your car, according to a report in USA Today's app.com.
"Lot 30, Zone A" is for faculty and staff at Rutgers University, it reads. "All others will be towed at owner's expense."
That's it. The historic ground in New Brunswick where Rutgers and Princeton played on Nov. 6, 1869 is a nondescript parking lot with no indicator of its historical significance.
As the sport turns 150 and Rutgers kicks off a season-long celebration of being the cradle — with all festivities taking place across the river in Piscataway — this is a sad omission, some say.
"You would think there would be something there," said retired Rutgers archivist Tom Frusciano, author of the definitive book on the university's gridiron history. "This year, there should be something placed there. It's one of the things Rutgers is known for."
As detailed in Frusciano's 2008 book, Rutgers University Football Vault: The History of the Scarlet Knights, the first game was played in what was an open field at the present-day corner of Senior and Sicard streets in New Brunswick.