WASHINGTON– When Timon Kyle Durrett played basketball for Alcorn State University, his day began at 4:30 a.m. to get to practice by 5. Practice could last up to an hour and forty-five minutes. Then he had class, mandatory lunch and more practice. He also had to study and do his homework.
"You are flat-out exhausted," Durrett said. "It can be very, very grueling."
Durrett – now an actor, author and visual artist – appeared on an eight-person panel at the Congressional Black Caucus Annual Legislative Conference called "The State of the Black-Student-Athlete in America," one of a number of conference panels that touched on higher education.
The panel featured voices from across college sports: NCAA Executive Vice President of Regulatory Affairs Stan Wilcox, Commissioner of the Central Intercollegiate Athletic Association Jacqie McWilliams, former NFL player Vincent Fuller, Morgan State University Director of Athletics Dr. Edward Scott, Florida State University basketball coach Leonard Hamilton, George Washington sociologist Dr. Robert Turner and motivational speaker Wanda Durant, the mother of NBA two-time champion and MVP player Kevin Durant.
An advocate for student athletes, Rep. Al Lawson Jr. introduced the panel. Lawson, a former college athlete and coach, came out with the NCAA Act earlier this spring, which would offer more work opportunities to student athletes, provide medical coverage for sports-related injuries and remove the 'one and done' rule.
"This has always been a significant discussion here," he said. "All across America, really."
Guided by moderator Georgia Dawkins, founder and CEO of Georgia Dawkins Media, panelists discussed athletic scholarships as a pathway to college for low-income students. Most of them said they got into sports because it felt like the only way they could afford a higher education.
"I really didn't have choice," Hamilton said. "My father told me the only way I was going to get an education was an athletic scholarship."
Hamilton's mother had a 7th-grade education and his father had a 9th-grade education, he told the audience. A basketball scholarship got him to college, and with his support, two of his brothers and their kids graduated, as well.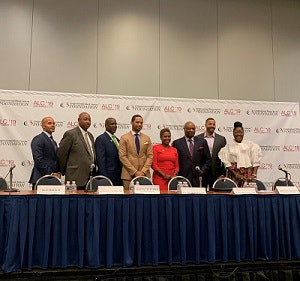 "You change the whole culture of a family by getting your education," he said.
But the role of a student athlete – especially for students who can't afford college otherwise – comes with pressures that pose a risk to their mental health, Hamilton said, and it's a coach's responsibility to mentor players holistically.
"I spend more time coaching their minds and their spirits than their bodies," he said.
McWilliams said student athletes wrestle with mental health even before they reach college, so recruiters, administrators and coaches need to work together to ensure students get the resources they need "from recruiting to when they get to our campuses."
Panelists also talked about the pressure of student athletes' dual responsibilities – academics and athletics.
Student athletes are pulled in two directions, said Turner, author of a book titled Not For Long: The Life and Career of the NFL Athlete. Students want to play professionally, and sometimes their recruiters imply that's where they're headed, but they're also told to thrive in school because chances are they won't make it. So, students are simultaneously hearing two messages, he said, "C's get degrees" and a "counter message" that they should academically prepare for alternate careers.
"How does a young person reconcile that?" he asked.
Meanwhile, the majority of student athletes who aren't selected for the NFL or NBA, are lost when they graduate with little training in anything else, Turner said. For years, their universities have told them "just win, baby," without figuring out "how to support the needs of these athletes, both as they transition from high school to college and as they transition from college into real life beyond sports," he said.
The most contentious debate centered around legislation approved in California, which would allow student athletes to profit off their own name, image and likeness, a measure the NCAA came out against.
Hamilton agreed with the NCAA's position that college sports is supposed to stay at the amateur level, and elite student athletes who make money off branding won't have incentive to apply themselves in school. It'll also create a disparity between programs with famous student players who profit off branding and programs without, he added.
"We need to think this thing through before we let this cat out of the bag," he said.
Turner, however, disagreed. He called it a "human rights issue" that the NCAA can market using students' names and pictures without any profit coming to the students themselves.
McWilliams assured the room that the NCAA was discussing the issue with its member schools.
"There's a lot of work that has to be done on everything that everybody has said today," she said. "The [NCAA policymaking] process is like making cookies. There's a lot of layers to what has to happen."
Sara Weissman can be reached at sweissman@diverseeducation.com.