The North Coast Athletic Conference has suspended all fall sports because the COVID-19 pandemic "continues to present evolving challenges to our campuses and communities."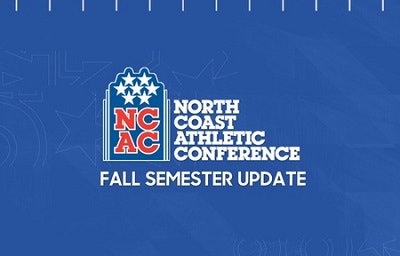 The conference said that "after extended consideration of the new NCAA guidance, and with tremendous regret," it suspended all intercollegiate competition through Dec. 31.
"We worked hard for months to create safe ways for students to compete this fall, knowing how much this means to our students and to our campuses, and that work was the foundation of the announcement we made on July 9th regarding conference competition," said Keri Alexander Luchowski, the conference's executive director in a statement. "However, the health and safety of our campuses and communities must be our highest priority. Sadly, the continued increase in the pandemic in many areas means that we cannot safely proceed with the conference competition we had planned for."
The conference members include colleges and universities from Ohio, Indiana and Pennsylvania. The member institutions are Allegheny College, Denison University, DePauw University, Hiram College, Kenyon College, Oberlin College, Ohio Wesleyan University, Wabash College, Wittenberg University, The College of Wooster, along with affiliate member Earlham College.