Last Saturday marked the 50th anniversary of one of worst sports disasters in U.S. history when a plane crashed, killing most of the football team at Marshall University, reported the Associated Press.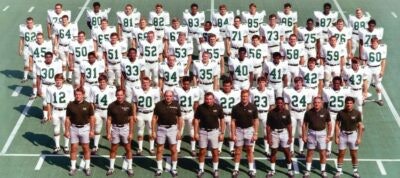 Community members gathered around the campus fountain dedicated to the crash victims to commemorate them. White flowers were placed by the fountain as each victim's name was read throughout the ceremony.
"This plaza and this fountain are the heart of Marshall University," said university President Dr. Jerome Gilbert. "It is the center of activity of the campus."
On Nov. 14, 1970, the team was returning from a game at East Carolina when the chartered jet crashed in fog and collided into a hillside upon approaching the airport. All 75 people on board died, including 36 football players and 39 school administrators, coaches, fans, spouses and flight crew.
"We each lost one or more family members," said former Marshall cheerleader Lucianne Kautz Call, the ceremony's keynote speaker. "From that moment, we became one family."
Due to the pandemic, the ceremony was invitation-only and also made available virtually.
Marshall, no. 16 football team also won on the 50th anniversary against Middle Tennessee 42-14.