The Arthur Ashe Jr. Sports Scholar award is a part of Diverse's quarter-century legacy of recognizing outstanding minority young men and women who have distinguished themselves in their academic and athletic pursuits.
In addition to their athletic ability, the students named 2021 Arthur Ashe Jr. Sports Scholars are students of color who have maintained a cumulative grade-point average of at least 3.5, are at least a sophomore academically and have been active on their campuses or in their communities. Of the close to 1,000 scholar athletes nominated, ten female athletes and ten male athletes are chosen as finalists. Meet the female finalists below:
Water polo player Riley Agerbeek, a senior justice studies major at San José State University, achieved her best season statistically in 2020, scoring 18 goals in 12 matches for the San José State water polo team. Agerbeek is a two-time Mountain Pacific Sports Federation All-Academic team honoree and was a member of the 2018, 2019 and 2020 Association of Collegiate Water Polo Coaches all-academic teams. She is currently serving as team representative on the San José State University Student-Athlete Advisory Committee (SAAC) for the second year in a row and is the SAAC publicity chair for the 2020-21 academic year.

Jessica Drop, a senior cellular biology major, has set the pace at the University of Georgia, creating several new school records over the course of her track & field career. She ran the indoor 3000 meters at 9:11, the indoor 5000 meters at 15:43 and the outdoor 5000 meters at 15:38. She is a 2018, 2019 and 2020 All-American athlete and was named the Southeastern Conference's 2020 Women's Co-Scholar Athlete of the Year. A devoted volunteer and community service leader, Drop has maintained a cumulative GPA of 3.9.
Senior bioengineering major Lena Greene is an All-American gymnast for Oregon State University (OSU), where she has successfully 'hit' 15 out of her 16 career routines and has secured two event titles on vault with a high score of 9.9. Greene is an active member of OSU's Dam Worth It campaign, a student-athlete mental health awareness campaign, and is a member of the PAC-12's newly-formed Gymnasts for Peace, Action, and Change (G-PAC), created to further conversations around diversity, equity and inclusion. A dedicated volunteer for various nonprofits, Greene has logged more than 94 hours of community service work throughout her collegiate career.
Morgan State University's Touri Holmes is a senior computer science major and an impressive bowler. She has bowled four consecutive 300-point games — the highest possible score — achieved by bowling 12 strikes in a row. Among other awards, she is a regular dean's list member, MEAC Scholar-Athlete and All-American Scholar with a cumulative GPA of 3.89. Despite the pandemic, she recently served as a virtual volunteer for a Baltimore organization called Code in the Schools, introducing computer science to children as early as elementary school.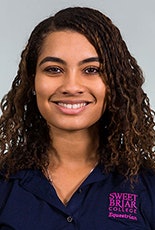 Equestrian Britt Larson-Jackson soars over fences at Sweet Briar College and makes history while she's at it — she currently holds the 10th highest score over fences at the school. As part of the National Collegiate Equestrian Association (NCEA), she has competed in eight meets over fences and five on the flat for Sweet Briar, with a career record of 1-7-0 and 2-2-1 over fences and on the flat, respectively. When not in the saddle, Larson-Jackson, a junior business major, volunteers her time for various organizations, working with the children's ministry at her local church and serving as the diversity representative for Sweet Briar's Student Athlete Advisory Committee. She is a two-time Old Dominion Athletic Conference All-Academic Team member, she is also a two-time NCEA Academic Honor Roll member and a five-time member of the Dean's List.
Golfer Alisha Lau, a senior media production major at the University of Colorado, Boulder, didn't take a break when the Pac-12 canceled its fall season. Instead, she teamed up with teammate Hailey Schalk for the United States Golf Association's 4-ball qualifier. Together, the duo won, carding a 4-under 68. Lau was also named to the 2021 Golf Canada Women's Amateur Team in November. In the 2019-20 season, Lau led CU to five top-20 finishes and wrapped up the fall by shooting under 220 at the final two tournaments. She is a 2019-20 Pac-12 Academic Honor Roll member and a 2019-20 Women's Golf Coaches Association All-American Scholar.
Washington State University (WSU) tennis player Savanna Ly-Nguyen finished the 2020 season strong with a 16-10 singles record and is carrying that same success into the 2021 season, currently holding a team-best season record of 17-2 as of April 11. A
junior neuroscience major, Ly-Nguyen has found success academically too. As a two-time recipient of the Intercollegiate Tennis Association Academic Achievement Award, she currently holds a cumulative GPA of 3.95 and is a regular volunteer at WSU Athletics community service events. In 2019, she represented Vietnam at the Southeast Asian Games, where she captured a silver medal.
University of Mississippi golfer Macy Somoskey is a talented senior mathematics major who has maintained a perfect 4.0 GPA throughout her collegiate career, earning her a regular spot on the dean's list and honor roll. A previous Women's Golf Coaches Association All-American Scholar, she's proven herself talented on the greens too. Before spring golf was canceled mid-season due to COVID-19, Somoskey posted a 75.5 stroke average. In the 2018-19 season, she averaged 77.05 strokes and turned in match-deciding victories for Ole Miss at the SEC Championship, playing 63 holes of match play in total. It was Ole Miss' first-ever SEC title.

Chanel Thomas is a master of business administration student at the University of Mississippi who's played in a total of 69 games over the course of her soccer career, totaling 4,464 minutes on the field. In addition to her athletic success, Thomas has maintained a 4.0 GPA and was awarded the Marcus Elvis Taylor Memorial Medal Designee — an academic honor given to no more than 1% of the student body. As Ole Miss soccer team academic captain for three years, she helped her teammates progress academically and assisted coaches in upholding academic standards for the program. She was on the University of Mississippi Chancellor's Honor Roll for six consecutive semesters.
This article originally appeared in the April 29, 2021 edition of Diverse. Read it here.