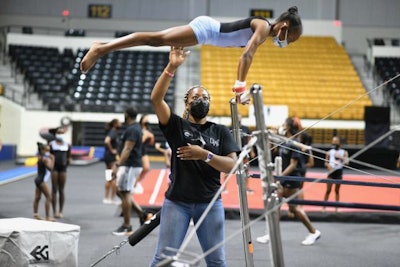 As Simone Biles and more superstar gymnasts of color made waves at this year's Olympics, Grambling State University (GSU) took steps to consider becoming the first Historically Black College and University (HBCU) with a women's gymnastics team.
"This could put GSU in the stratosphere," said Dr. Trayvean Scott, the University's vice president of intercollegiate athletics. "But we're not in it for the attention. We're in it to carve our own niche for young ladies to live their dreams as student-athletes."
According to Scott, GSU will likely not offer the sport for another three to five years as the campus focuses on relaunching men's tennis and women's golf by 2023 first. The University in the meantime is building community partnerships.
"We'll aggressively study the sport to develop a budget and be cognizant of the bottom line," said Scott, who noted GSU is a low-resource institution. "We're trying to move very delicately."
But the possibility of an HBCU women's gymnastics team has already excited many.
"I'm getting chills even thinking about it," said Derrin Moore, the president of Brown Girls Do Gymnastics (BGDG), an advocacy group for inclusion and diversity in gymnastics and circus arts. This July, BGDG partnered with GSU to host its fifth annual conference, where young gymnasts of color from 23 states came to campus for workshops and mentorship.
"When it comes to Black gymnasts, girls right now are having to choose between HBCUs and gymnastics," said Moore, who as a coach often sees girls struggle with the decision. "You don't really see yourself in the sport if you know you're going to an HBCU. The question becomes, what am I going to do when I turn 18? But to have a sport not traditionally in our community at an HBCU, this would change that."
Dr. Leila Ellis-Nelson, a psychologist and one of Moore's former BGDG gymnasts, agrees that an HBCU offering gymnastics would have a positive impact. She is an assistant professional practice professor at Roosevelt University and sees the sport, like higher education, as a space that has often left out Black communities.
"Gymnastics provided the foundation for me to learn a physical skill set that typically has been kept from folks like me. But what it really gave me was a sense of community," said Ellis-Nelson, who trained with Moore from ages 6 to 13, surrounded by coaches as well as gymnasts of color who looked like her.
But Ellis-Nelson recommends HBCUs take the sport a step further. "Don't just have that gymnastics program on campus but also in the communities," said Ellis-Nelson. "Think about what it means to not just have longevity to you as an institution but you giving back to a historically excluded community."
Moore pointed to Simone Biles bowing out of competitions in the Olympics for her mental health as another step forward for the sport.
"To have a voice in gymnastics is not normal. And the fact that Biles is Black and did so tells the world that Black women can stand for themselves," said Moore. "The face of gymnastics is just going to change. This is all going to make a huge difference in allowing these Black and brown girls to be themselves."