While a few big names get most of the attention, college basketball players across the country are seeking to monetize their names, images, and likenesses (NIL).
Those interested in intercollegiate athletics have read about how the big names in Division I basketball are cashing in on NIL. University of Connecticut's Paige Bueckers signed with Gatorade. University of Kentucky's TyTy Washington launched a nonprofit organization to share some of the wealth he's quickly acquiring. Duke University's men's basketball team signed a deal with fast food chicken chain Bojangles.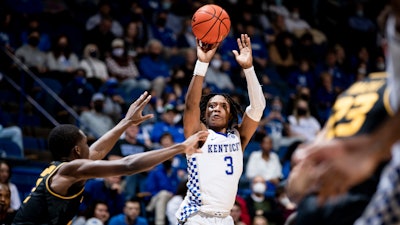 While marquee players at high profile programs bring in more and more endorsement deals, stories are slowly emerging of lesser known names all over the country dipping their toes in NIL waters and learning the ins and outs of managing their personal brands.
"It wasn't about the money for me, because this was my first opportunity to be recognized and do something like this," says Amaya Tucker, a redshirt sophomore guard at Division II Winston-Salem State University. She inked a deal last summer with the Winston-Salem Dash, a minor league baseball team, promoting the team on her social media (Twitter, Facebook and Instagram).
For a hometown hero — Tucker grew up in Winston-Salem — the opportunity was a great fit.
Nuts and bolts
While NIL has been discussed and debated for years, the NCAA authorized it last summer in reaction to newly enacted state laws allowing student-athletes to monetize their NIL. One of the challenges around its implementation is that there is not a national law, so issues have come up as states have differing regulations, particularly around the use of school intellectual property.
"It's inconsistent and, frankly, it's unfair because some states are more restrictive than others," says Val Ackerman, commissioner of the Big East, who co-chaired the committee that drafted the NCAA guidelines. "It's leading to all sorts of recruiting implications."
Rick Perko of the Brandr Group, which does group licensing deals for athletes, says the firm now has 40 national licensees involved in college sports. Those licenses include products like holiday ornaments and cryptocurrency, but most of the deals involve apparel, such as replica jerseys and t-shirts. Brandr Group signs deals with college and university athletic programs, and student-athletes can opt in or out.
"The marketplace is going to speak in terms of what products licensees are going to decide to produce because they're going to expect to make money," says Perko.
For example, he says, most of the players on Gonzaga University men's basketball team have t-shirts with their names and numbers on them, which is fine in the state of Washington. The rub with such deals is that, in states restricting use of the school's intellectual property, most apparel would not be possible.
"Certainly, clarification of national standards from a federal perspective and the NCAA perspective would be welcome," says Perko. "As long as they recognize the marketplace and how it's evolving, we do need some guardrails in place to make sure that things are done appropriately."
Institutional oversight
Most colleges and universities are taking a hands-off approach when it comes to procuring or negotiating deals. Many schools have pages on their websites outlining information about NIL rules and there will be sessions giving student-athletes a general idea of what to expect. All deals must pass institutional compliance to move forward.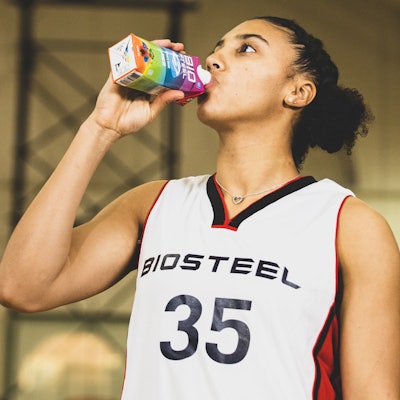 In the state of Kentucky, there isn't currently a state law that speaks to NIL, but an executive order issued by Gov. Andy Beshear allows students in the state to "receive fair compensation for the use of their names, images, and likenesses."
Rachel Baker, executive associate athletic director/compliance at the University of Kentucky, says there is very little the student-athletes cannot do outside of the specifically forbidden areas: sports betting, adult entertainment, cannabis, tobacco, nicotine, and vapor products.
The platform INFLCR — short for "influencer" — brings customized technology that assists NCAA institutions in managing student-athlete NIL. School photographers and videographers can upload content from practice and games that student-athletes are allowed to post on their social media. There is also a disclosure part of INFLCR where student-athletes or their representatives can enter information about potential deals.
"In general, with all of our student-athletes, they've been very grateful for the opportunity to be able to explore NIL," says Baker. "For some of them it has been a little bit of a wakeup call, quite frankly, of what that value is."
Creating opportunities
For some student-athletes, the wakeup comes with substantial paychecks. Though the specific monetary amount hasn't been disclosed, University of Connecticut freshman guard Azzi Fudd has a deal with BioSteel Sports Nutrition, which is partnering with student-athletes to introduce its new sugar-free hydration options. John Celenza, co-founder and co-CEO of BioSteel, says Fudd embodies the values and authenticity that define the brand.
"Partnering with collegiate athletes allows brands to introduce products to a new group of fans and new communities," says Celenza. "We expect NIL opportunities to continue to grow for student-athletes. For BioSteel, our collegiate partners participate in the same type of marketing activities as our other #TeamBioSteel athletes, which includes amplifying our latest products, partnerships and distribution deals via social media posts and appearances and by using the product in everyday life."
While other basketball student-athletes may not be earning enough to begin planning their dream homes, they are earning much needed spending money and gaining exposure and learning skills that will benefit them after college. Danielle Patterson, a guard/forward who is now enrolled as a graduate student at St. John's University, has put together a collection of shirts and hoodies with PWRFWD that contain her motto, "Grow through what you go through."
Patterson, who has also joined other St. John's student-athletes in promoting Nella Probiotics, has some other NIL possibilities in the works.
Former college water polo players Andrew Mavis (George Washington 2020) and Nick Bunn (Harvard University 2019) founded 98Strong to connect companies with those student-athletes who comprise the 98% who won't be signing five- and six-figure deals.
"We started this company to bridge the gap," says Mavis. "We've been able to bring sponsorship deals to over 600 student-athletes with follower accounts of 600 to 5,000 over the past couple of months."
The companies have ranged from local businesses to large corporations. 98Strong is free to join and non-exclusive. As soon as a student-athlete joins, he or she will receive emails and texts with deal opportunities they can accept or decline. Compliance information is provided for their institutions. Thus far, there have been deals for student-athletes from 22 out of the 24 NCAA recognized sports.
"We'll generally pay a flat rate that varies from $50 to $200," says Mavis. "We'll also sometimes do a promo code on top of that, so they'll get extra money."
Bunn worked in a laundromat during college to make ends meet, so it is incredibly rewarding for him to be able to bring value to student-athletes that are just like they were.
Three women's basketball players at Columbia University, Sienna Durr, Kaitlyn Davis, and Abbey Hsu, got an NIL deal via 98Strong with Geneva, a messaging app. They were sent sweatshirts that had Geneva's logo and branding, took photos, and posted those photos to their Instagram. Each was paid a flat fee.
"We were able to model the sweatshirts in any way we wanted, and from there we sent in our images and they gave us a caption of what to say on our posts. Then we had to post it to our main feeds and onto our Instagram stories," says Durr. "It's an amazing opportunity that no athletes have had before us. If you have the opportunity, take advantage of this, profit off of your name, image, and likeness, and build your brand."
"It's an easy process as long as you follow the steps so you stay [NCAA] eligible," she adds. "It's easy to snap a few photos of yourself. Those are things we do all the time in this day and age with social media, so why not make money off of it as well."
Davis sees herself accepting other NIL opportunities. She is open to posting more often on social media.
"Before, you could build your brand, but you couldn't profit off of it until after school," she says. "It's a good opportunity to start branding ourselves. … Even if you don't have that many followers or you don't think you have that much of an influence, you have enough where somebody will find value in it."
This article originally appeared in the February 17, 2022 edition of Diverse. Read it here.