Intercollegiate athletics commenced in the fall 2021 semester with great expectations. While administrators did not think things would return to the way they were before the pandemic, hopes were high that, with precautions such as vaccination and masking requirements for spectators, college sports would not experience the cancellations, postponements, and disappointments of the 2020-21 academic year.
By December 2021, however, it became clear that players, coaches, administrators, and conferences would have to be nimble in responding to positive COVID-19 tests. The Omicron variant is highly contagious and, despite vaccinations, positive case numbers are continuing to spike as of late January. As a result, basketball games are being rescheduled when possible and canceled when necessary. Track and field athletes are withdrawing from meets. Fans are watching via streaming, and that's how the ball bounces so far in 2022.
"We're doing the best we can to be competently reactive to the outbreaks," says Big East Commissioner Val Ackerman. "What's happened was definitely unexpected. We seemed like we had turned a corner. … We did not expect the suddenness and the severity of Omicron."
Facing reality
Fall sports took place largely uninterrupted. Basketball season started on time and games were being played on schedule. Depending on state regulations, athletic departments were following strict health protocols that included vaccination requirements for all student-athletes. Fans were in the stands again — showing proof of vaccination and masking in states that allowed those requirements — especially for basketball.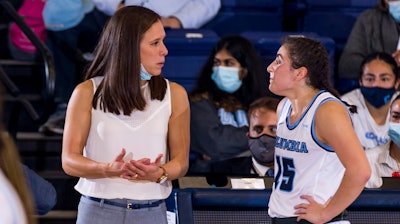 In mid-December, the Big East conference office received word that Seton Hall University had a COVID outbreak on its men's basketball team. Soon after, DePaul University men's team reported an outbreak. From mid to late December, the conference saw a surge within the member institutions' athletic programs.
"It kind of turned things upside down," Ackerman says. "This set in motion for us a review of our protocols, many consultations with our doctors/infectious disease experts, and review of CDC guidelines, which have changed a couple of times in the last few weeks."
The NCAA has issued updated guidance around isolations, quarantines, masks, and surveillance testing. Ackerman admits issues around Omicron have consumed conferences and institutions as they try to keep things on track and provide student-athletes opportunities to compete.
"We have it down now," says Ackerman about rescheduling games. "We know how to handle a notice of outbreak, followed by a decision to cancel and an attempt to reschedule.
"The good news is the cases that we've seen have been mild with quick recovery times for the athletes."
Evolving plans
At the start of the fall semester, a number of athletic conferences had a forfeiture policy to encourage vaccination. Once it became apparent that there were a plethora of breakthrough COVID cases and ample evidence of vaccinated student-athletes testing positive, conferences reversed the forfeiture policy to last year's policy cancellation with an attempt to reschedule. If the reschedule doesn't happen, then the game simply doesn't count.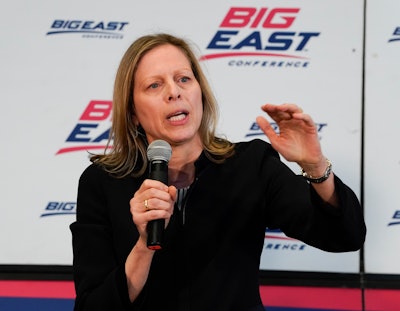 Unlike last season, if one player tests positive, the entire team isn't quarantined if the players and coaches are vaccinated. In the Big East, if a basketball team has seven healthy scholarship players – regardless of position played or typical minutes – and one available coach, then the team must play or take the loss.
"There are ways in which things have changed for the better in the last year, as it relates to our being able to keep the season going, play games, play them safely and preserve the kind of competition that we know our athletes and our schools want," says Ackerman, who notes that spectator policies are determined by the schools in line with local health laws.
"If they have an issue, [member institutions] have to send us a note spelling out who's available and who isn't. If they're not available, why, so that we can verify," she adds. "When we get those notes, we'll cancel the game and attempt to reschedule it."
The Ivy League conference canceled all winter sports for the 2020-21 academic year, so basketball players arrived back on campus hungry to hit the hardwood. Columbia University women's basketball was off to a great start when the reality of Omicron hit.
After canceling its final non-conference game in December as a precaution, Columbia decided to bar spectators at the start of Ivy League conference play. As of late January, Columbia started allowing a limited number of spectators at games, but those people had to have direct connections to players or staff. The school requires proof of vaccination and masking, a policy that has remained in effect since the start of the season.
"Leading up to this year and even at the beginning of this year our staff did a great job of saying, 'Things are going to change,'" says Columbia women's basketball head coach Megan Griffith. "Addressing that up front and not pretending this year was going to be roses and sunshine. Then, spending time every week saying, 'This happened. What did we learn from it? What can we expect moving forward? Encouraging them to join us in those conversations."
"That's literally all we can do right now is stay flexible and adaptable and share information as we receive it," she continues. "Trust that the people making decisions are making decisions for the good and health of our student-athletes and staff."
Griffith says student-athletes must be able to handle good and bad news. Hiding difficult information disadvantages them in their preparedness. Many college basketball players played through the rough 2020-21 season, including participating in men's and women's NCAA Tournaments that were held in a bubble. But, for Ivy League basketball players, abrupt cancellations and weeks packed with rescheduled games are new.
"It all stems from communication," says Griffith. "It helps them wrap their heads around [whatever comes]. … This might be normal moving forward for every student-athlete that comes through college."
Back in action
The Big East Conference basketball tournaments are expected to take place the first week of March. The men play at Madison Square Garden and the women play at the Mohegan Sun Arena in Connecticut. The men's teams may stay at the hotel of their choice; last year everyone was required to stay at one hotel, thus creating a bubble. The women's teams will all stay at the Mohegan Sun resort. Spectators will be allowed.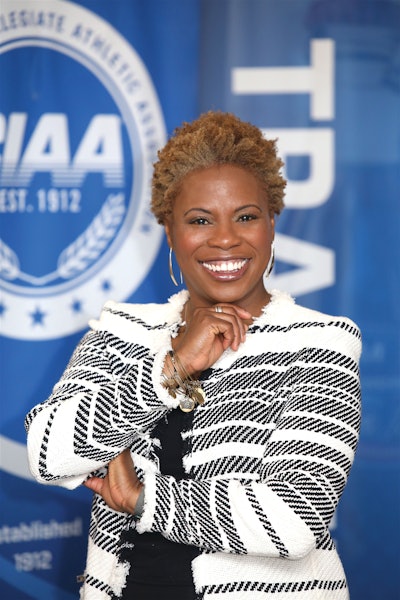 "We're largely going with institutional and local public health guidance," says Ackerman. "Our schools have gotten pretty hardy about carrying on."
The Central Intercollegiate Athletic Association (CIAA) is the oldest African American athletic conference in the U.S. The Division II conference conducts 14 championships but, in the 2020-21 academic year, made the decision not to hold athletic competition. After a year on pause, the member institutions are excited to be back in action and are moving forward with the 2022 CIAA Men's and Women's Basketball Tournament scheduled to take place Feb. 22-26 in Baltimore.
Dr. Aminta Breaux, president of Bowie State University, which is the primary host of the tournament, said at a virtual press conference in mid-January, "We want everyone to turn out and get excited and pumped up about our student-athletes and their talent on the court and what they achieve through the classroom and their learning throughout the year."
The CIAA Tournament routinely leverages its popularity to inform and engage people about historically Black colleges and universities (HBCUs), and CIAA commissioner Jacqie McWilliams says appropriate health protocols are in place. Baltimore City Mayor Brandon Scott recommended wearing masks and says the city is following the science and guidance of its health commissioner.
"Visit Baltimore's team along with the CIAA's team led by the commissioner, we've been working in lockstep with the health commissioner here in Baltimore City to make sure that all of our fans, when they come to Baltimore, they will feel safe," says Al Hutchinson, president and CEO of Visit Baltimore. "We have protocols in place. We have to wear our masks indoors at Royal Farms Arena.
"At some of the private events, we may go to another level of protocol," he added. "It's very, very important that the health of all visitors is number one — student-athletes, fans, coaches, cheerleaders, all of our local residents. Public health, believe us, our team is on board with that."
This article originally appeared in the February 17, 2022 edition of Diverse. Read it here.