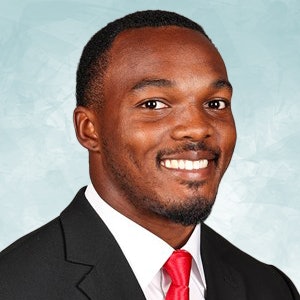 "Nakobe as an athlete is extremely self-motivated, and this goes into all walks of his life," says Glenn Schumann, co-defensive coordinator, inside linebackers, University of Georgia, about Nakobe Dean, this year's Arthur Ashe Jr. Male Sports Scholar of the Year. "He's the picture of a self-starter. He's hard on himself. He's a guy that has an expectation for what he wants to accomplish and what it should look like, and he's not going to relent from meeting expectations."
Although Dean left University of Georgia after football season to prepare to enter the upcoming NFL Draft, his mark as an athlete, scholar, and caring person is indelible. He says he balanced athletics and academics by "keeping what's important, important." His parents always emphasized education as a priority.
"I'm a competitive person," Dean says. "I was already taking AP classes prior to college coaches coming to see me. It was always a sense of pride; it was who I was before I was known as a football player, and that didn't change."
Dean sustained straight A's throughout high school. "In ninth grade, the teacher had us write a letter to our senior selves, and one of my goals was to make all A's throughout high school," says Dean, whose parents and long-time friends have been his support system.
He could not quite sustain a 4.0 GPA in college but would not back down from the challenging major he had selected, mechanical engineering. His mother used to take him to visit a Veterans Affairs hospital, where he was inspired by amputees.
"I want to design and build prosthetics and things like that," says Dean, who received the Ken and Jody Jackson Family Scholarship and the Ramsey Scholarship for Academic & Athletic Excellence. Dean is a member of Omega Psi Phi, a historically African American fraternity, and those connections have also encouraged him to keep striving.
Cory Kopaniasz, Dean's athletic academic advisor, says from the moment Dean set foot on campus he had a high-level academic mindset. "He's a hard-working kid that is so driven," says Kopaniasz. "He works his tail off to do well academically. It's important for him to do his best in the classroom."
On the field, linebacker Dean helped lead Georgia to the 2021 National Championship and was voted one of four permanent team captains by his teammates. He was an AP and Coaches' All-SEC First Team selection. In a surprise on-campus celebration, he received the 2021 Butkus Trophy for being the nation's top collegiate linebacker. Schumann describes him as unselfish and always having his teammates' backs.
"He's a joy to coach because there are very few days you have to get him started," says Schumann. "He showed up with the mindset of wanting excellence in everything that he does on a day-to-day basis."
His commitment to community service was unrelenting during his time as a Georgia Dawg. He worked extensively with Dawgs for Pups, Georgia football's program to impact the lives of local youth. Dean helped spearhead a drive that raised approximately $100,000 to purchase WiFi hotspots for local children so they could access the internet and fully participate in remote learning during the pandemic. He was a member of Georgia's LEAD (Leadership Education and Development) program, and he also visited local school children as part of Read Across America. He was selected as "captain" of the 2021 AFCA Good Works Team, which spotlights 22 players—11 from FBS and 11 from FCS—for their extra efforts within their communities.
"Anything that gives back to the community," Dean says. "Of course, I take a special kind of heed toward the kids in the rec center, because I grew up in a rec center. That's where I started playing football, baseball, and basketball. When I see them, I see myself."
While Dean hopes for a professional football career, he is determined to complete his bachelor's degree program. "Everything I set out to do at the University of Georgia, I have done, other than graduate," Dean says. "I am getting my degree no matter what. I've got to.
"You get recognition for playing football that some people look at you as just a football player," he continues. "I'm much deeper than that. If I wasn't playing football, I'd still be giving back to my community and involved in all the things I'm involved in."
This article originally appeared in the April 28, 2022 edition of Diverse.