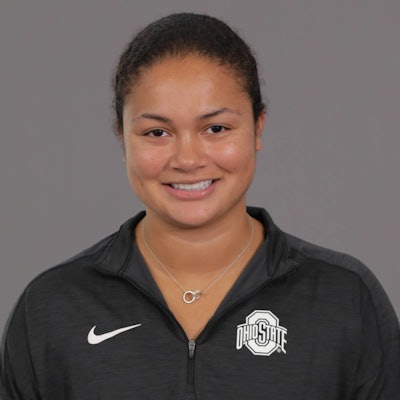 Spring has brought a rush of excitement for ice hockey defenseman Sophie Jaques, who with her teammates celebrated the first-ever NCAA Women's Ice Hockey Championship for The Ohio State University.
"It shows the growth of our program over these past couple of years," says Jaques, the 2022 Arthur Ashe Jr. Female Sports Scholar. "That was a great accomplishment for us, and we were so excited to have won."
Born and raised in Toronto, Canada, Jaques started in hockey when her parents were looking for an activity for her to do in the winter. After taking part in a learn-to-skate/learn-to-play-hockey program, she fell in love with the sport. She says she knew she wanted to play intercollegiate ice hockey in the U.S. and found many things to love about Ohio State.
"Seeing all the school pride is something I've never experienced before," Jaques says. "To get a great education, Ohio State was a great option for me."
Nadine Muzerall, head coach of Ohio State's women's ice hockey team, says Jaques was instrumental in the team's success. "She is what we call a 200-foot hockey player," says Muzerall. "From one end of the ice [to the other] is 200 feet, and she can control all areas of the ice. Defensively, she is disciplined, she has a strong work ethic, she's smart, and she sees the ice well. Offensively, she knows how to score and when to make quick decisions.
"As a leader, she is very humble," Muzerall continues. "She's focused and committed to excellence. The team absolutely adores her."
In addition to being a great hockey player, Jaques is intent on being a great student. Among the honors she has garnered are: WCHA All-Academic Team, WCHA Scholar-Athlete, OSU Scholar Athlete, and Academic All-Big Ten. She stays on track through strong time management and focusing on academics when it's time to study and on sports when it's time to practice and compete. She also credits the academic counselors and professors, who have been respectful of her commitments and determination to succeed.
"Our practice block is in the afternoon, which allows me to get a lot of my schoolwork done before practice," says Jaques.
Jaques will graduate with her bachelor's degree this spring. She plans to take advantage of the extra year of eligibility granted by the NCAA to play again next year as she pursues a master's degree.
"There are very few people on a team you can build your program around that will be essential in making your team very successful," says Muzerall. "Sophie elevates the game."
Jaques' major is civil engineering, and she will pursue a master's in transportation engineering, hoping to build a career in the transportation field. Having completed an engineering internship, she has been a research assistant and teaching assistant and has been granted a two-year fellowship program to cover the cost of her master's studies.
Jaques currently serves as the co-vice president for SHEROS, a registered student-athlete organization focused on BIPOC women within Buckeye Athletics. As a member of the executive board, she has worked to create a welcoming space and sense of community for student-athlete women of color at the PWI. This is especially meaningful to her as the only Black player on her team.
"We've been able to have social events, get-togethers and have discussions that I think have really helped," says Jaques. "To know we're not alone. … We are such a small population, but it's great to be connected with a group of girls who are going through the same thing…and hear their perspectives."
Alex Sommer, academic counselor and student-athlete engagement coordinator at Ohio State, says Jaques is so self-motivated she requires minimal assistance with her academics. "She's very proactive in her schedule planning," says Sommer, who has already been helping Jaques with her fall 2022 schedule to ensure there are no conflicts with training or competition.
For Sommer, Jaques' work with SHEROS stands out for its impact. "I've been able to see her step up as a leader, not just for her team, but for women of color within the athletics department," says Sommer.
Jaques has also been active in community outreach, taking time to volunteer at The 2nd & 7 Foundation, which promotes reading by providing free books and positive role models to kids in need. When little girls of color come to hockey games, and she takes time to speak with them and let them see that hockey is for everyone who wants to play. Muzerall says Jaques is committed to making an impact.
"I've tried to lead by example," Jaques says. "Giving my best effort and working my hardest at everything I've done to get where I am and hopefully show them that if they try their hardest, they can achieve their goals."
This article originally appeared in the April 28, 2022 edition of Diverse.