Over half of Americans (54%) support allowing college athletes to be paid for sports-related business ventures using their name, image, and likeness (NIL), according to a recent poll from market research and consulting firm Ipsos.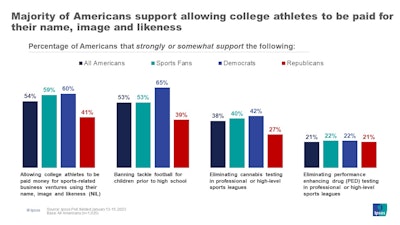 The Ipsos Sports Poll surveyed Americans of varying ages – 1,035 general population adults, ages 18 and up – about a number of topics related to athletics, including sports played, sports fandoms, issues in the sports industry, and NIL rights.
The poll found that 57% of Americans agreed that the NIL monetization had a positive impact on college athletics by ensuring players were fairly compensated.
"All signs for the past few years have pointed to this becoming the norm," said Mallory Newall, a vice president at Ipsos. "By in large, Americans support that. Most feel that NIL has a positive impact on college athletics because it allows for fair compensation and allows the players to, through endorsement deals and the like, profit off of the corporations that are trying to use their name rather than all of this money going into the hands of other businesses or university administration or not to the player directly."
The majority of Black Americans (70%) supported payment for NIL, according to the poll. Meanwhile, there was a more even split for white Americans (50%).
"As we know, most NCAA Division I athletes, particularly when it comes to Division I football, they're disproportionally Black," Newall said. "And so, I think the fact that we see such a strong majority of Black Americans … supporting this, just underscores that Black athletes are going to be benefitting from these NIL deals. So to me it makes sense that Black Americans are broadly supportive."
Different age groups also slightly affected polling results. When given the two options of 'NIL monetization is good because it ensures players are fairly compensated' and 'It's bad for college athletics because it gives certain schools a competitive advantage,' younger Americans -- Gen-Z, millennials, Gen-X – were more supportive of NIL and feel that it's a positive thing, Newall said.
Among Americans ages 18 to 34 – Gen-Z and most millennials – 64% agreed that allowing college athletes to earn money from NIL had a positive impact, while among those ages 35-54, 60% supported it, Newall said.
"NIL is one of the ways that we sort out take into question about the integrity of the game, what it means to maintain integrity in sports," Newall said. "And for younger Americans, NIL doesn't detract from the integrity of the game or from their experience as a sports fan. They simply believe that it's the right thing to do, to allow athletes to profit off of their name, image, and likeness."
Back in June 2021, the NCAA released an interim policy on NIL that allowed college athletes to "engage in NIL activities that are consistent with the law of the state where the school is located."
"There have been a number of different efforts to have federal legislation in place that would provide uniform protections around the country, that has never gotten enough traction," said Sarah Hartley, a partner and attorney at Bryan Cave Leighton Paisner LLP who teaches sports law at the University of Virginia School of Law. "Right now, we have a smattering of probably more than two dozen different versions of legislation around the country with various different procedural protections or scopes of permissions on NIL and limited enforcement, causing quite a chaotic landscape across schools around the country and even within conferences."