University of Georgia football player Jalen Carter surrendered to police in Athens, Georgia the night of Mar 1. night after a warrant was issued for his arrest earlier that day, ProFootballTalk reported.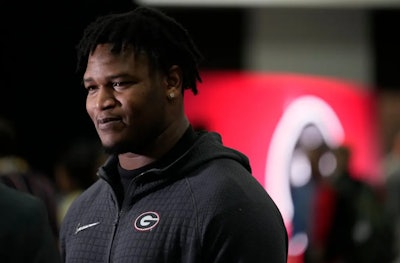 Carter – who said he believed he will be fully exonerated – was charged with reckless driving and racing in relation to a Jan. 15 car crash that killed teammate and redshirt sophomore Devin Willock and football team staff member Chandler LeCroy. Carter had been racing his Jeep Grand Cherokee Trackhawk with a Ford Expedition driven by LeCroy, according to Athens-Clarke County police.
Both cars were going past the speed limit and ran into oncoming traffic lanes ahead of the crash, according to police. The Expedition was going approximately 100 miles per hour when it crashed into a power pole, killing LeCroy and Willock and injuring two other passengers, the New York Times reported. And toxicology reports indicated that LeCroy was intoxicated at the time of the crash.
He was booked at 11:33 p.m. ET Mar. 1 and released shortly after, posting a $4,000 bond.
Carter was one of the top prospects in this year's NFL draft and was projected to be a top-five pick.