Candace Byrd-Vinson, Calhoun Community College head women's basketball coach, is the school's first African American female basketball coach, FOX 54 reported.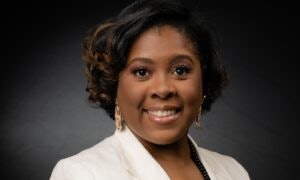 This comes as Calhoun returns to men's and women's basketball after a 21-year hiatus.
Byrd-Vinson – a Tanner, Alabama native – was a 4-time All-State player and 2A State Player of the Year at Tanner High School in Limestone County and played at the collegiate level at Birmingham-Southern College. She then coached at East Lawrence High School and R.A. Hubbard High School, leading Hubbard to a Class 1A State Championship in 2017.
"Well, I began playing basketball at an early age, and once I saw that I was decent in the sport, I decided to try out for the basketball team at Tanner High School," Byrd-Vinson said. "I just have a passion for basketball, you know. I love the sport. I love everything about the sport."
The 2018 Limestone County Sports Hall of Famer has also been named "Coach of the Year" for the northern division by The Alabama Community College Conference (ACCC).
"My final message to women, whether it's here or all across the country or wherever, is to make sure that you believe in yourself," Byrd-Vinson said. "Even if others don't believe in you, you believe in yourself, and you can do anything you put your mind to. But you know you must work at it, you know? And as a woman, just holding your head high, having, you know, high self-esteem and confidence and surrounding yourself around people who are going to be your cheerleaders and who's going to encourage you."