Georgetown University has fired head basketball coach Patrick Ewing after going 75-109 over six seasons, the Daily Mail reported.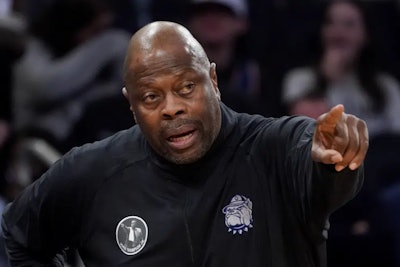 Ewing's last game was an 80-48 loss to Villanova Mar. 8 in the first round of the Big East Tournament at Madison Square Garden, where Ewing played as an NBA star for the New York Knicks during his basketball career.
This season, the school had a 7-25 record. During Ewing's tenure, the team had only one winning season and faced a 29-game Big East losing streak – it began in March 2021 and ended January 2023 – the most consecutive defeats in league history.
In contrast, as a player, Ewing had led Georgetown to an NCAA championship in the 1980s.
Georgetown President Dr. Jack DeGioia called Ewing "the heart of Georgetown basketball" and said he was 'tireless in his dedication to his team and the young men he coached," in a statement with the change announcement.
"Every coach knows, as soon as ... you dot the I's and cross the T's, the writing's on the wall," Ewing said previously. "At some point in your career, you're going to be let go. That's just life in coaching."