The New York Knicks partnered with Verizon to honor historically Black college and universities (HBCUs) Mar. 27, with one 18-year-old high school senior from Harlem receiving a scholarship, Patch reported.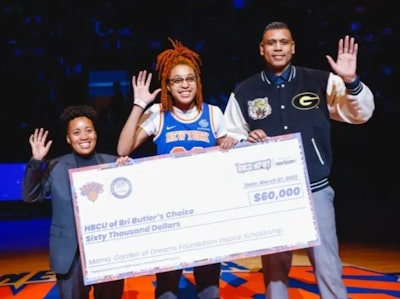 Bri Butler was awarded on the court Monday night, during the Knicks's game against the Houston Rockets in Madison Square Garden. Her $60,000 Garden of Dreams Inspire Scholarship will go towards attending an HBCU of her choice.
Butler is part of SCAN-Harbor, an organization that supports at-risk children and their families. She plans to play basketball at college.
Other events for the night included a 10-person Morgan State University choir singing the National Anthem, a Howard University marching band halftime performance, an HBCU college fair, HBCU panel, and an honoring of team legend and Grambling State alum Willis Reed, who died Mar. 21.