Student-athletes, professionals, and athletic influencers convened at the 2023 Black Student Athlete Summit.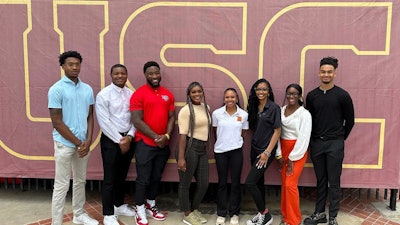 The four-day event – the NCAA Department of Inclusion, Education, and Community Engagement (IECE) was a sponsor – was hosted by The University of Southern California. It featured corporate recruiting; presentations; engagement activities; and sessions on topics such as mental health, performance and success in life; and brand development.
"The NCAA has been an amazing partner of this year's summit," Summit Founder Dr. Leonard Moore said. "In particular, their support of eight HBCU Fellows allows the summit to expand our reach to student-athletes at HBCUs. Further, the NCAA's office of inclusion, education and community engagement also serves as a thought partner of the Black Student Athlete Summit. This collaboration allows us to remain proactive in meeting the holistic needs of Black student-athletes."
IECE also invited eight HBCU Student-Athlete Fellows, covering registration, hotel accommodations, and travel.
"My favorite parts were being around Black excellence and Black student-athletes who understand the struggles of an athlete and being Black," Alcorn State Softball player Kiri Parker said. "This summit has given me meaningful takeaways as far as how to conduct a short but effective elevator pitch, and resume tips that will help me stand out from other candidates."
In addition, the NCAA Minority Opportunities and Interests Committee (MOIC) and NCAA Office of Inclusion recently selected three 2023 Champions of Diversity and Inclusion, applauding them for their campus and community work in supporting underrepresented populations in intercollegiate athletics.
The three honorees are Stevie Baker-Watson, associate vice president for student wellness and director of athletics and recreational sports at DePauw University; Dr. Charvi Greer, deputy athletics director, student services and senior woman administrator, at Tulane University; and Ashley Stone, associate athletic directors for student-athlete experience and senior woman administrator at Oakland University.