Florida Governor Ron DeSantis and NCAA President Charlie Baker clearly have different opinions when it comes to the future of diversity, equity and inclusion.
Recently, DeSantis signed a bill that will defund programs at all public universities in the state that promote diversity, equity and inclusion. That's a stark contrast to the comments Baker, the former governor of Massachusetts, made recently at the NCAA Inclusion Forum. Baker said that the NCAA's ongoing inclusion work remains a top priority during his tenure.
DeSantis is now running for President of The United States of America.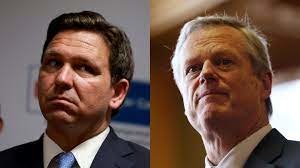 At the North American Society for Sports History conference last weekend, the topic was front and center.
Dr. Jeff O Brien, who directs the Institute for Sport & Social Science at the University of Central Florida said that the attacks on DEI are trending across the nation.
"While Florida gets a lot of attention don't be fooled that this is only happening in Florida," he said. "My last count was 14 or 15 state legislators with either exact or very similar types of legislation around Trans rights and book bans, DEI bans these things are part of a strategy".
What impact this will have on athletic recruiting remains to be seen.
For 18 year-old student athletes deciding between a university in their home state or one in Florida, this could be a deciding factor in not choosing a Florida institution. For schools like the University of Florida, South Florida and Central Florida who recruit the best student athletes in the country, the ongoing attack on DEI could prove to be a disadvantage.