Though the Western Michigan University Broncos had a winning record (37-32) over the last six years under head coach Tim Lester, the team fell short of its goal to win the Mid-American Conference. The Division 1 football team fell out of contention the final week some seasons.
"The results on the field didn't reflect the investment in performance," said athletic director Dan Bartholomae.
It was clear that a change needed to be made. Enter new coach Lance Taylor, who Bartholomae hired Dec. 7.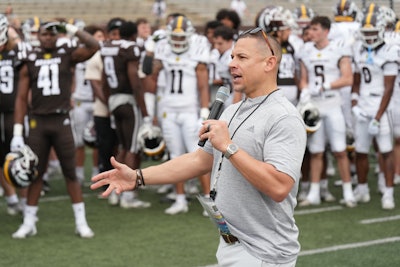 According to Bartholomae, Taylor had the best football pedigree of any candidate he interviewed. Taylor walked on to the team at the University of Alabama as a wide receiver and rose to captain. After a stint in the Arena League, he embarked on a coaching career, taking roles as an assistant at Alabama, Stanford, and Notre Dame, where he worked under Nick Saban, David Shaw, and Brian Kelly. He has had stints coaching in the NFL as well, with the New York Jets and the Carolina Panthers. Most recently, he served as the offensive coordinator and receivers coach at the University of Louisville, where he led an attack that ranked second in the Atlantic Coast Conference.
But there's something else about Taylor's background that makes him unique. As a member of the MOWA Band of the Choctaw tribe, he is the only current Division I head football coach with a Native American background.
Bartholomae embraces the diversity, but the athletic director is quick to note that Taylor was hired because he was the best candidate, not because of his ethnic background. "The fact that we have an ethnicity represented that's not anywhere in D-1 is something we take pride in," said Bartholomae.
Taylor is fiercely proud of his heritage, too. Although he didn't grow up on a reservation, his parents made sure that he was steeped in Native culture, attending powwows, and learning Choctaw history.
"My background, how I was raised and brought up, is a huge part of who I am and how I attack each and every day," said Taylor. "I think it is woven into the fabric of who I am and has helped me every step along the way."
The biggest cultural impact, Taylor said, was in the development of his work ethic.
"It's a mentality that we're going to work for everything and earn everything that we had. We're obviously a proud people," he said. "And I think when you take pride in everything that you do, all aspects of your life and your work, you want to put the best product out there, whether it's schoolwork, whether it's being a coach, whether it's playing football."
Although there have not been many Native Americans in the world of football, with the exception of Jim Thorpe, Taylor had an ideal role model right at home. His father, who grew up on the reservation and became the first person in his family to go to college, where he played for the legendary coach Paul "Bear" Bryant. (Taylor describes his father as "much better than myself on the field.") After college, he started his own successful construction business.
"He really was a self-made man, very respected in our community," said Taylor. "[He] has always been a big part of our tribe and our reservation, and making sure that his kids were well aware of where we came from."
Taylor embraces the idea of being a role model for Native Americans, like his father was for him.
"People from our tribe, whether I know them intimately or not, have reached out to offer support and say what an inspiration that I've been for either them or their kids or our people," he said. "Those are very inspiring stories, and I love hearing them because it continues to remind me that you're always making an impact."
But as spring ball turns into summer workouts, Taylor is focused on making sure that his team's work ethic mirrors his own. He talked about of creating a "championship culture," with championship expectations. When asked about goals for his first season, Taylor is careful to avoid specifics. He is relentlessly process-oriented, a trait he said he picked up from Saban.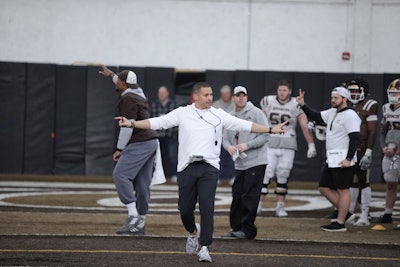 "I don't want to focus on championships or how many games we need to win," he said. "For me, it's about building the culture the right way. I think if we get the right people in the organization, from the coaching staff to the support staff to our players in the locker room, and build a great foundation, I think the wins will take care of themselves."
Bartholomae said he has already seen a change.
"Lance has brought in an element of accountability," he said. "[The players] show up early and stay late. They're driven to get better."
Taylor said he thinks he's winning the players over as well.
"One of the things that I have been most pleased with has been the buy-in," he said. "Everything that I've challenged them with, when I've asked them to give me more or do more, the buy-in has been excellent. They've been so eager and attentive and willing to want to change."
And while Taylor won't make any predictions, he has high hopes for fall.
"I hope you see a team that competes their tails off every single day," he said. "That plays hard for 60 minutes, that plays fast, physical, and that we finish. That's the biggest difference I want guys to notice."
Jon Edelman can be reached at JEdelman@DiverseEducation.com