Two years after a scathing report on gender equity issues, the NCAA commissioned an external, independent review of its progress at championships.
"A continued commitment to equity must be at the center of everything in college sports," said National Collegiate Athletic Association (NCAA) President Charlie Baker.
When huge disparities were exposed between the 2021 Division I Men's and Women's Basketball Tournaments, ranging from workout facilities to food to swag bags, the NCAA retained the law firm of Kaplan Hecker & Fink LLP to examine gender equity issues throughout the organization.
Kaplan issued a detailed report on its findings and provided recommendations. This year, the NCAA engaged Lewis Rice LLC, a St. Louis-based law firm with a substantial sports practice, to assess the NCAA's progress in implementing the recommendations in the Kaplan report with reference to 88 of the NCAA's 90 championships. Division I men's and women's basketball were not included.
From March 21, 2023, to July 31, the Lewis Rice attorneys reviewed documents and conducted interviews with 41 NCAA staff members and 29 NCAA committee members. Their "Gender Equity Assessment" was released last week.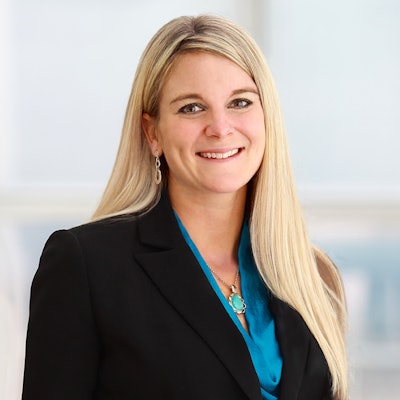 "An important, I'll call it a tectonic shift at the NCAA since 2021 is the intentionality around creating an equitable student-athlete experience at the championships, both in terms of the planning of the championship and then when boots are on the ground in the execution as well," said Sarah E. Mullen, the lead attorney for this undertaking.
The nine Lewis Rice attorneys who worked on this report have been either college athletes or athletic department administrators. Mullen selected attorneys who had Title IX experience and/or external investigation experience. She also wanted people with experience in data analysis because several of the recommendations refer to the NCAA's ability to manage data.
"Gender Equity Assessment" noted issues related to championships from the Kaplan report that have been addressed, that have been modified, are in progress and items for future consideration. There are some items from the 2021 report that have been considered, but decisions were made to either not implement or to delay implementation.
The NCAA offered the following: "This is a progress report which gives us guidance on where we need to improve and provide additional efforts as well as seeing where things are satisfactorily progressing. We're learning what is most beneficial in providing the best experience for student-athletes."
The report outlines what Mullen called "remaining and persistent obstacles," some of which are consequences of the NCAA's complex organizational structure. There is the national office as well as member-led committees, and those committees often make decisions that impact the championships.
"I urge leaders at all colleges and universities to prioritize equity throughout college sports," said Baker, who became President of the NCAA earlier this year.
The report indicated that throughout the legal team's work they repeatedly heard that historically there has been "no ownership of gender equity." Over the past two years, the NCAA has developed and implemented a robust Gender Equity Assessment Tool, which includes more than 200 questions to evaluate and assess the student-athlete experience at each championship.
"The NCAA has made a concerted effort to implement gender equity principles throughout our work," said Felicia Martin, NCAA Senior Vice President of Inclusion, Education and Community Engagement. "We still have work to do, but we are proud of these results."
With reference to the bid process for championships, the NCAA receives bids, but generally doesn't court the ideal venue and incentivize a bid. "That sometimes leaves a very limited pool of options as to what the host venue looks like and that impacts the student-athlete experience," Mullen said.
A big point outlined in the report is clearer, more transparent and more usable data. When a committee is considering venues for a championship, Mullen said ideally the NCAA should be able to give historical data on ticket sales at the location and data on corporate sponsorship when a championship in the given sport has been hosted at this venue or a similar venue. A scorecard for the venue would detail video boards, locker rooms and other accommodations.
"It allows the committees to have more of an objective and quantitative view of the bid and then make decisions," Mullen said.
The NCAA has an Office of Inclusion as well as four diversity, equity and inclusion committees, but gender equity is also in the hands of the member institutions. While all colleges and universities cannot afford a comprehensive effort such as this report, they can engage well informed legal sources to do a gender equity review. Lewis Rice works with Division III institutions on Title IX reviews.
"It doesn't break the bank for a law firm to come in and do a review, make some recommendations and help advance the institution's efforts to provide equitable experiences to all their student-athletes," said Mullen.