Peyton Manning will become a professor of practice in The University of Tennessee, Knoxville's (UT) College of Communication and Information, starting this fall.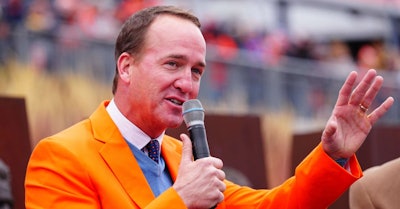 Manning – acclaimed former football star, sports commentator, and media personality –returns to his alma mater as a featured expert with industry experience. He will teach topics such as sports reporting, video production and performance, leadership and communication, and public speaking.
Manning holds a degree in speech communication from UT.
In addition to his lauded football career, Manning is also founder of entertainment company Omaha Productions and hosts and produces shows for ESPN+, ESPN2, and NBC.
"My time as a student in the College of Communication and Information was a foundational experience during which I learned critical skills and messaging techniques that I continue to put to use almost daily," Manning said. "I look forward to working with the college's talented faculty and directly with students in an effort to ensure they are well prepared for their future careers."
Manning's prior support for the school includes the Peyton Manning Scholarship for first-year UT students and internships through Omaha Productions for UT journalism and electronic media students.