Renowned basketball coach Bob Knight has died at age 83. He had reportedly been in poor health for years and was hospitalized with an illness in April.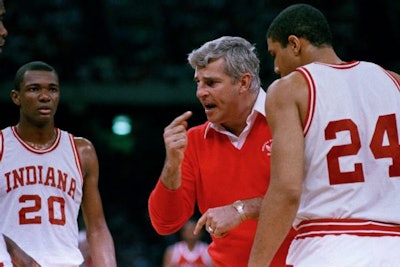 "It is with heavy hearts that we share that Coach Bob Knight passed away at his home in Bloomington surrounded by his family," Knight's family said in a statement Wednesday. "We are grateful for all the thoughts and prayers, and appreciate the continued respect for our privacy as Coach requested a private family gathering, which is being honored."
Robert Montgomery Knight is known and commended for his Hall of Fame career with three national titles at Indiana University Bloomington and his 1965 record as the youngest Division I coach at age 24 at the United States Military Academy.
Under his leadership, IU won a school-record 661 games and reached the NCAA tournament 24 times in 29 seasons. Knight – he holds a career record of 902-371 – won his first NCAA title in 1976, with IU going undefeated.
Outside of IU, Knight coached the 1984 U.S. Olympic basketball team to a gold medal in Los Angeles.
Knight was not without his own controversies. His aggressive outbursts were well-known, such as grabbing the arm of a freshman student whom he said greeted him by his last name; throwing a chair during a Purdue game; allegedly choking player Neil Reed in 1997; and headbutting player Sherron Wilkerson.
He was fired from IU in 2000 for his behavior, going on to lead Texas Tech as basketball coach in 2001 and later becoming a college basketball analyst for ESPN. His career as a head coach spanned 42 years.
"Coach Knight ... will forever be remembered as one of the top coaches in not only Texas Tech history but all of college basketball," Texas Tech Athletics said in a statement. "He truly changed the game with not only his motion offense but his insistence that his teams be defined by their defense.
"His impact was felt off the court, too, as he was a profound supporter of student-athletes receiving a quality education, which was evident by his teams annually producing a near-perfect graduation rate. Coach Knight's impact on our basketball program will forever be cherished as one of the greatest tenures in our history."