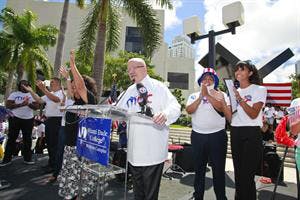 In recent years, immigrant rights organizations, students and social activists have called on U.S. higher education institutions to get behind state and federal legislative measures, such as the DREAM Act and comprehensive immigration reform. While legislative action on immigration reform policies has been very limited, colleges and university campuses at least proved to be friendly places for discussion among those debating and advocating reform.
In the wake of President Barack Obama's State of the Union address during which he proclaimed that "leaders from the business, labor, law enforcement, faith communities … all agree that the time has come to pass comprehensive immigration reform," higher education leaders  appear to be joining the coalition of those behind immigration reform.
"I think we're seeing a different type of coalition this time. I'm seeing more colleges and universities join the fight for immigration reform," says Dr. Darrell West, vice president and director of Governance Studies at the Brookings Institution think tank.
Last week's open letter by three prominent college leaders sent to more than 1,200 university and college presidents urging their support for "immigration policies that will help attract and retain the world's best and brightest" sent a clear message that higher education leaders are ready to join the reform coalition that President Obama noted in his State of the Union speech.
In their joint letter, Cornell University president David J. Skorton, Arizona State University president Michael M. Crow and Miami Dade College president Eduardo J. Padrón invite fellow college presidents to bring "attention to one of the biggest challenges facing our colleges and universities: How U.S. immigration laws impact our ability to attract, retain, and educate the world's leading minds." They wrote that on April 19 the three will host major events on their respective campuses to demonstrate that immigration drives innovation and leads to the creation of American jobs.
"Too often, however, our ability to educate and our ability to innovate are
frustrated by U.S. immigration laws. Particularly in the innovation-rich fields of Science, Technology, Engineering, and Math (STEM), we train many of the brightest minds of the world, only to have those students sent abroad to compete against us because our immigration laws do not provide a viable path for them to stay," the letter states.
Working with the Partnership for a New American Economy and the National Immigration Forum, the three presidents have joined other sector leaders to focus on ensuring that immigration reform legislation increases the availability of skilled worker visas and makes green cards available for foreigners graduating from U.S. universities with advanced science and technology degrees. Proposals have been introduced to have the fees generated from expanded skilled worker visa programs pay for a national STEM education fund that would benefit efforts in American public schools and colleges.
Maria Cardona, co-chair of the inSPIRE STEM USA coalition, cites the Immigration Innovation Act of 2013 as a proposal that combines the short-term goal of attracting foreigners to study and work in STEM professions with the long-term strategy of creating a national fund to boost STEM education in American schools. The legislation, also known as the I-Squared Act, would expand the H-1B visa program for college-educated foreign workers and exempt foreign graduates of U.S. universities with advanced degrees in STEM fields from annual statutory limits on employment-based permanent immigrant visas.
"We need to make sure our kids here in the long run are trained to take on high-tech jobs. That's the critical education piece in all this," she says.
In addition to companies, civic organizations, and business associations, the inSPIRE STEM USA coalition includes a number of higher education groups, such as the Asian & Pacific Islander American Scholarship Fund (APIASF), Excelencia in Education, and the Hispanic Association of Colleges and Universities.
Neil Horikoshi, the APIASF president and executive director, says that APIASF joined the coalition to ensure that the interests of Asian American and Pacific Islander students are represented in the national discussion around STEM education. "STEM graduates are an essential part of this initiative, which is about the vibrancy of America and building economic development in communities throughout the nation," he says.