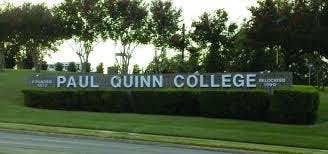 Paul Quinn College has announced that it will lower tuition and fees, add several academic programs to its curriculum, create a STEM-based charter school and begin transitioning the campus into a work college by the fall.
Ambitious? Perhaps.
But it's the long-term vision of the school's president, Michael J. Sorrell, who delivered the news to an enthusiastic group of students, faculty and staff at a campus town hall meeting yesterday afternoon.
"We think higher education can do more and better for students they serve," said Sorrell, who has led the Dallas-based historically Black college since 2007. "We are honored to do this for our students."
At a time when many colleges are slashing academic programs, Sorrell said that Paul Quinn College (PQC) is expanding, and plans to offer new majors in a variety of academics subjects such as English, Spanish, political science, communication and business administration.
PQC students — about 84 percent qualify for the Pell Grant — won't have to pay for textbooks either, as instructors have opted instead to utilize open source materials for all of their classes.
"This comes about as a result of listening to your concerns," he told the students, who applauded when he announced that the school's yearly tuition will decrease from $23,815 to about $14,775 for students who live on campus or $9,775 for off-campus students.
All students will earn a $5,000 credit for participation in the work college program, which will require that all students spend their first two years working a job on campus and their last two years of college working at a company off campus.
The work college subsidy, along with the Pell Grant and other federal grants, will mean that the average PQC student will only have to pay about $2,300 a year to finance his or her education.
"We will be the first urban workforce college in the country. And we will be the first HBCU work college," Sorrell added.
The plan, which Sorrell has called the "New Urban College Model," has been embraced by the school's board of trustees and some scholars who study HBCUs.
"As a board member at Paul Quinn College and someone who has researched HBCUs since 1994, I am really excited about the work that Michael Sorrell and his staff are doing at Paul Quinn College," said Dr. Marybeth Gasman, a professor of higher education and director of the Center for Minority Serving Institutions at the University of Pennsylvania.
"The New Urban College Model is fresh, innovative, puts students first and takes into consideration the important issues of student debt, job placement, workforce demands and experience. All of these issues work hand in hand with academics. Sorrell is a bold leader and the HBCU community needs more individuals like him to continue to move into the 21st century."
Sorrell said that transitioning Paul Quinn to a work college model was designed to help students to compete for jobs when they graduate.
"It's not enough to graduate with just good grades," Sorrell said, commenting on his decision to follow the example of other predominantly White institutions, such as Berea College in Kentucky, that have long operated successfully as a work college. "This means that your work experience will be transferable and will help you get full-time employment when you graduate."
Although there are only about 270 students who attend the college, Sorrell said that, since 2010, student enrollment has increased by 88 percent. And he is actively traveling the country to recruit prospective applicants. "We are growing. Our enrollment is up."
He said that the Trinity Environmental Academy — the new K-12 charter school — will have a STEM focus and will help "meet the needs of our entire community."
Jamal Eric Watson can be reached at jwatson1@diverseeducation.com. You can follow him on Twitter @jamalericwatson.